Session 1: Military Perspectives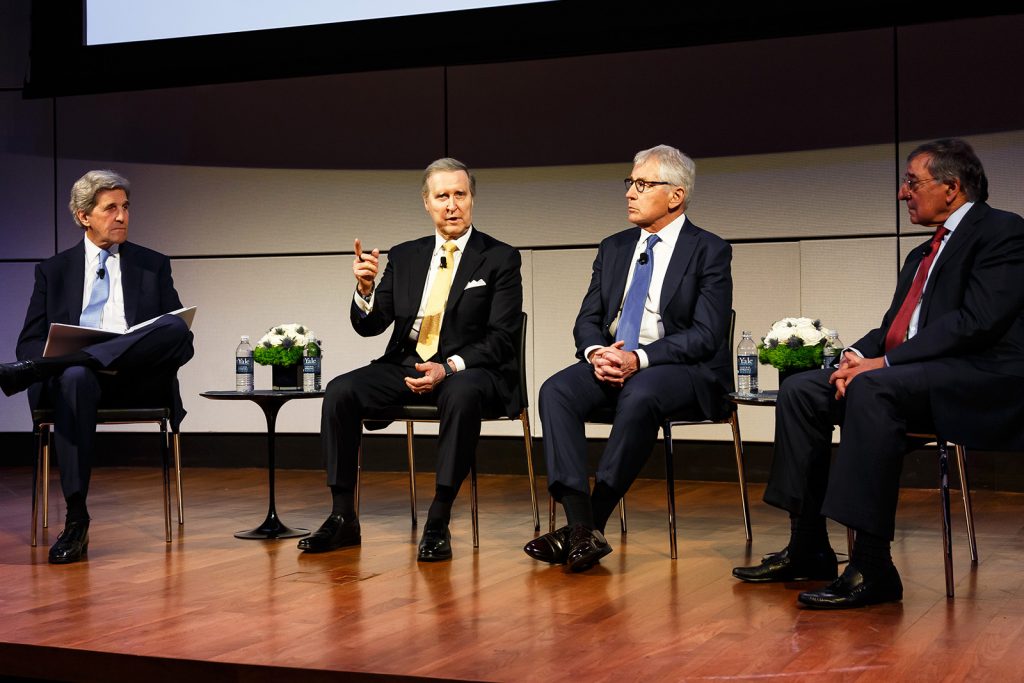 William Cohen, former Secretary of Defense (1997-2001)
William S. Cohen served as U.S. Secretary of Defense (1997 – 2001), U.S. Senator from Maine (1979 – 1997) and U.S. Congressman from Maine (1973 – 1979). He is currently the chairman and CEO of The Cohen Group.
As a freshman Republican Congressman, Sec. Cohen was tasked by the House Judiciary Committee to build, on national television, the evidentiary base for impeachment of President Nixon. He later cast one of the critical votes to impeach. In 1974, he traveled to Thailand in 1974 to reassure a stalwart ally following the U.S. military withdrawal from Vietnam. In the process, Secretary Cohen established relationships that have flourished there and elsewhere around the globe over the quarter century since.
In 1978, he was propelled into the Senate, defeating a highly respected incumbent. During his first weeks in the Senate, he was singled out to be chairman of two powerful subcommittees, the Armed Services Committee's Seapower and Force Projection Subcommittee and the Governmental Affairs Committee's Government Oversight Subcommittee. The former was responsible for tens of billions of acquisition dollars for naval vessels and long-range transport aircraft, as well as U.S. security policy in East Asia, the Middle East and the Persian Gulf. The latter was responsible for reforming the procurement process for the entire Federal Government.
As Chairman of the Senate Committee on Aging, Sec. Cohen led efforts to improve the efficiency of Medicare and other health care programs and was a central player in the health care reform debates of the 1990s. He also was a member of the Select Committee on Intelligence for a decade, serving half that time as Vice Chairman, overseeing a large budget involving some of the nation's most advanced technology.
Secretary Cohen's international expertise was recognized by his selection to the Board of Directors of the Council on Foreign Relations from 1989 to 1997, whose Middle East Study Group he chaired. He has chaired and served on numerous other study groups and committees at the Center for Strategic and International Studies, the School for Advanced International Studies, and the Brookings Institute. He established and led US delegations to the annual Pacific Dialogue in Kuala Lumpur, as well as the American-Arab Dialogue in Cairo, both regional conferences on economic and security issues. Beginning in 1985, he led the U.S. delegation of senior Executive Branch officials and Members of Congress to the annual Munich Conference on Security Policy.
In 1997, he was selected by President Clinton to lead the Department of Defense. Reversing a steady decline in defense budgets that began in the 1980s, Secretary Cohen succeeded in modernizing the military and maintaining its readiness to fight; reversing recruitment and retention problems by enhancing pay and other benefits; and strengthening security relationships with countries around the world in order to reorient them from the Cold War to the challenges of a new era. Under his leadership, the U.S. military conducted the largest air warfare campaign since World War II, in Serbia and Kosovo, and conducted other military operations on every continent. During his tenure, Secretary Cohen held substantive meetings with foreign leaders in over 60 countries.
Chuck Hagel, former Secretary of Defense (2013-2015)
Chuck Hagel was the 24th Secretary of Defense, serving from February 2013 to February 2015. He is the only Vietnam veteran and the first enlisted combat veteran to serve as Secretary of Defense.
Some of Sec. Hagel's current commitments include service on the Board of Trustees of RAND; Advisory Board of Corsair Capital; Senior Advisor to Gallup and to the McCarthy Group; Distinguished Scholar, University of Nebraska at Omaha; Distinguished Statesman at the Atlantic Council; Board of Directors of Public Broadcasting Service (PBS); Director and Founding Member of the American Security Project; and Advisory Board Chairman of the HillVets Veterans Organization.
Sec. Hagel served two terms in the United States Senate (1997-2009) representing the state of Nebraska. He was a senior member of the Senate Foreign Relations; Banking, Housing and Urban Affairs; and Intelligence Committees. He chaired the Foreign Relations International Economic Policy, Export and Trade Promotion Subcommittee; and the Banking Committee's International Trade and Finance, and Securities Subcommittees. Hagel also served as the Chairman of the Congressional-Executive Commission on China and the Senate Climate Change Observer Group.
Previously, Secretary Hagel was a Distinguished Professor at Georgetown University, Co- Chairman of the President's Intelligence Advisory Board, Chairman of the Atlantic Council. He served as a member of the Secretary of Defense's Policy Board, Secretary of Energy's Blue Ribbon Commission on the Future of Nuclear Power, Systemic Risk Council Board of Directors; and as a member of the Board of Directors of Chevron.
Prior to his election to the U.S. Senate, Hagel was president of McCarthy & Company, an investment banking firm in Omaha, Nebraska. In the mid-1980's, Hagel co-founded VANGUARD Cellular Systems, Inc., a publicly traded corporation. He was President and CEO of the World USO, Private Sector Council (PSC), and Chief Operating Officer of the 1990 Economic Summit of Industrialized Nations (G-7 Summit). Hagel also served as Deputy Administrator of the Veterans Administration under President Ronald Reagan and Deputy Commissioner General of the 1982 World's Fair.
He is the author of the book, America: Our Next Chapter and was the subject of a 2018 book by General Daniel Bolger entitled, Our Year of War, and a 2006 book by Charlyne Berens entitled, Chuck Hagel: Moving Forward. He is a graduate of the University of Nebraska at Omaha. Hagel and his wife, Lilibet, have a daughter (Allyn) and son (Ziller).
Leon Panetta, former Secretary of Defense (2011-2013)
A Monterey native and Santa Clara University School of Law graduate, Secretary Panetta began his long and distinguished public service career in 1964 as a First Lieutenant in the United States Army, and upon discharge went to work in Washington as a legislative assistant to U.S. Senate Minority Whip Tom Kuchel of California. In 1969, he was appointed director of the Department of Health, Education and Welfare's Office for Civil Rights, where he was responsible for enforcing equal education laws. Later, he served as executive assistant to the mayor of New York City. He then returned to Monterey, where he practiced law until his election to the U.S. House of Representatives in 1976.
Serving in Congress for 16 years, Sec. Panetta was a key participant in agriculture, healthcare, ocean and federal budget issues. From 1989 to 1993, he chaired the House Budget Committee. He authored a wide range of legislation, including the Hunger Prevention Act of 1988, Medicare and Medicaid coverage for hospice care for the terminally ill, and numerous measures to protect the California coast, including creation of the Monterey Bay National Marine Sanctuary.
In 1993, Sec. Panetta left Congress to serve as director of the Office of Management and Budget for the Clinton administration. There, he was instrumental in developing the policies that led to a balanced federal budget and eventual surpluses. In 1994, he accepted appointment as the president's chief of staff, and immediately brought order and focus to White House operations.
Upon leaving the Clinton administration in 1997, Sec. Panetta joined with his wife Sylvia to establish and co-direct The Panetta Institute for Public Policy, based at California State University, Monterey Bay. Reflecting Sec. Panetta's own ideals and personal example, the nonpartisan, not-for-profit study center seeks to attract thoughtful men and women to lives of public service and prepare them for the policy challenges of the future.
Returning to public service in the Obama administration as director of the CIA, he ran the operation that brought Osama bin Laden to justice, and, as Secretary of Defense, led the effort to develop a new defense strategy, helped bring two wars to an end, and opened up opportunities for everyone to serve in the military.
Sec. Panetta returned to the Panetta Institute as chairman on February 27, 2013 and resumed his role as moderator of the renowned Leon Panetta Lecture Series. He chronicles his life in public service in his best-selling memoir Worthy Fights, which was published in 2014.
---
Session 2: Defending Democracy at Home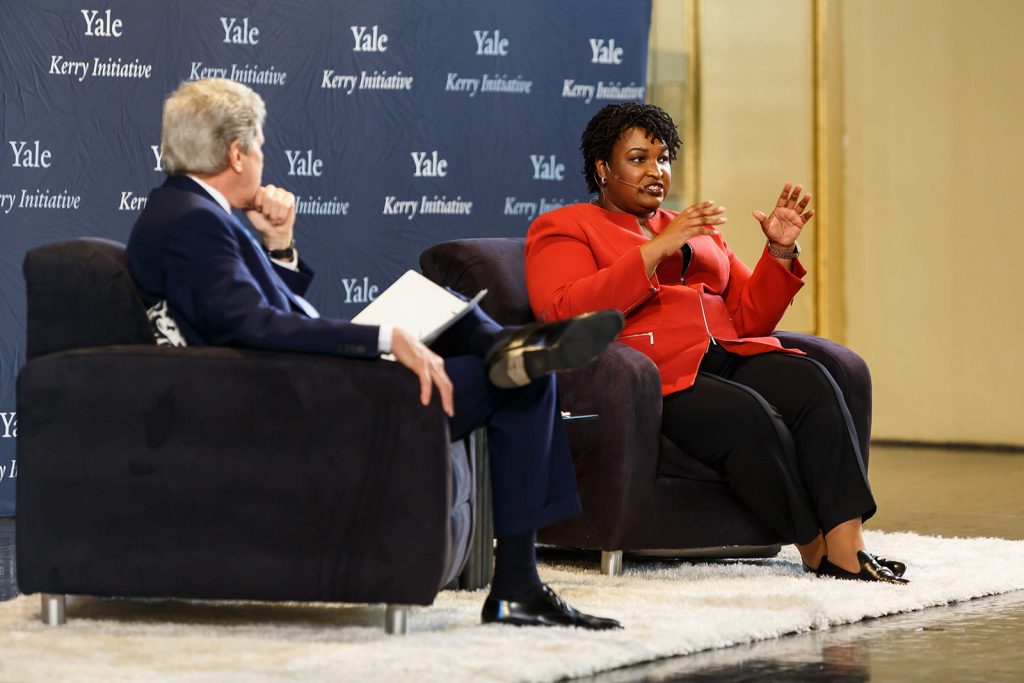 Stacey Abrams '99 J.D., former minority leader, Georgia House of Representatives
Stacey Abrams is an author, serial entrepreneur, nonprofit CEO and political leader. After serving for eleven years in the Georgia House of Representatives, seven as Minority Leader, in 2018, Abrams became the Democratic nominee for Governor of Georgia, when she won more votes than any other Democrat in the state's history. Abrams was the first black woman to become the gubernatorial nominee for a major party in the United States. After witnessing the gross mismanagement of the 2018 election by the Secretary of State's office, Abrams launched Fair Fight to ensure every Georgian has a voice in our election system. Over the course of her career, Abrams has founded multiple organizations devoted to voting rights, training and hiring young people of color, and tackling social issues at both the state and national levels. She is a lifetime member of the Council on Foreign Relations, the 2012 recipient of the John F. Kennedy New Frontier Award, and a current member of the Board of Directors for the Center for American Progress. Abrams has also written eight romantic suspense novels under the pen name Salena Montgomery, in addition to Lead from the Outside, formerly Minority Leader, a guidebook on making real change.
Abrams received degrees from Spelman College, the LBJ School of Public Affairs at the University of Texas, and Yale Law School. She and her five siblings grew up in Gulfport, Mississippi and were raised in Georgia.
---
Session 3: Diplomatic Perspectives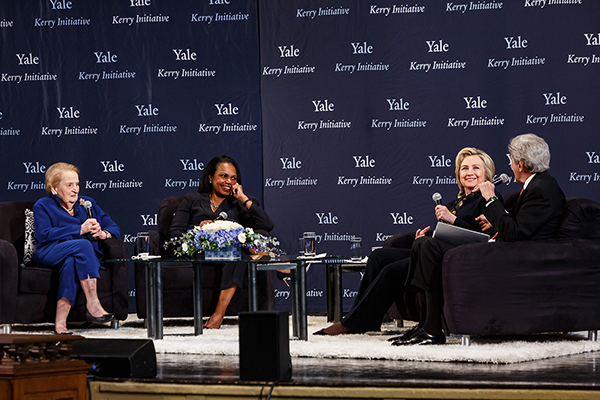 Madeleine K. Albright, former Secretary of State (1997-2001)
Madeleine K. Albright is a professor, author, diplomat and businesswoman who served as the 64th Secretary of State of the United States. In 1997, she was named the first female Secretary of State and became, at that time, the highest-ranking woman in the history of the U.S. government. From 1993 to 1997, Sec. Albright served as the U.S. Permanent Representative to the United Nations and was a member of the President's Cabinet. She is a Professor in the Practice of Diplomacy at the Georgetown University School of Foreign Service. Sec. Albright is Chair of Albright Stonebridge Group, a global strategy firm, and Chair of Albright Capital Management LLC, an investment advisory firm focused on emerging markets. She also chairs the National Democratic Institute, serves as the president of the Truman Scholarship Foundation and is a member of the U.S. Defense Department's Defense Policy Board. In 2012, she was chosen by President Obama to receive the nation's highest civilian honor, the Presidential Medal of Freedom, in recognition of her contributions to international peace and democracy.
Sec. Albright's latest book, Fascism: A Warning was published on April 10 and debuted at #1 on the New York Times bestseller list. She is the author of five other New York Times bestselling books: her autobiography, Madam Secretary: A Memoir (2003); The Mighty and the Almighty: Reflections on America, God, and World Affairs (2006); Memo to the President: How We Can Restore America's Reputation and Leadership (2008); Read My Pins: Stories from a Diplomat's Jewel Box (2009); and Prague Winter: A Personal Story of Remembrance and War, 1937-1948 (2012).
Hillary Rodham Clinton, former Secretary of State
Hillary Rodham Clinton served as a U.S. senator (2001–09) from New York and secretary of state (2009–13) in the administration of President Barack Obama. She had served as first lady (1993–2001) during the administration of her husband, Bill Clinton, 42nd president of the United States. As the Democratic Party's nominee for president in 2016, she became the first woman to top the presidential ticket of a major party in the United States. She graduated from Yale Law School in 1973.
Condoleezza Rice, former Secretary of State 
Condoleezza Rice is currently the Denning Professor in Global Business and the Economy at the Stanford Graduate School of Business; the Thomas and Barbara Stephenson Senior Fellow on Public Policy at the Hoover Institution; and a professor of Political Science at Stanford University. She is also a founding partner of RiceHadleyGates, LLC.
From January 2005 to 2009, Rice served as the 66th Secretary of State of the United States, the second woman and first African American woman to hold the post. Rice also served as President George W. Bush's Assistant to the President for National Security Affairs (National Security Advisor) from January 2001 to 2005, the first woman to hold the position.
Rice served as Stanford University's Provost from 1993 to 1999, during which she was the institution's chief budget and academic officer. As Provost, she was responsible for a $1.5 billion annual budget and the academic program involving 1,400 faculty members and 14,000 students. In 1997, she also served on the Federal Advisory Committee on Gender — Integrated Training in the Military.
From 1989 through March 1991, Rice served on President George H.W. Bush's National Security Council staff. She served as Director; Senior Director of Soviet and East European Affairs; and, Special Assistant to the President for National Security Affairs. In 1986, while an international affairs fellow of the Council on Foreign Relations, Rice also served as Special Assistant to the Director of the Joint Chiefs of Staff.
As professor of political science, Rice has been on the Stanford faculty since 1981 and has won two of the highest teaching honors – the 1984 Walter J. Gores Award for Excellence in Teaching and the 1993 School of Humanities and Sciences Dean's Award for Distinguished Teaching.
She has authored and coauthored numerous books, including three bestsellers, Democracy: Stories from the Long Road to Freedom (2017); No Higher Honor: A Memoir of My Years in Washington (2011); and Extraordinary, Ordinary People: A Memoir of Family (2010). She also wrote Germany Unified and Europe Transformed: A Study in Statecraft (1995) with Philip Zelikow; The Gorbachev Era (1986) with Alexander Dallin; and Uncertain Allegiance: The Soviet Union and the Czechoslovak Army (1984).
In 1991, Rice cofounded the Center for a New Generation (CNG), an innovative, after-school academic enrichment program for students in East Palo Alto and East Menlo Park, California. In 1996, CNG merged with the Boys and Girls Club of the Peninsula (an affiliate club of the Boys and Girls Clubs of America). CNG has since expanded to local BGCA chapters in Birmingham, Atlanta, and Dallas. She remains an active proponent of an extended learning day through after school programs.
Since 2009, Rice has served as a founding partner at RiceHadleyGates, LLC, an international strategic consulting firm based in Silicon Valley and Washington, D.C. The firm works with senior executives of major companies to implement strategic plans and expand in emerging markets. Other partners include former National Security Advisor Stephen J. Hadley and former Secretary of Defense Robert M. Gates.
Born in Birmingham, Alabama, Rice earned her bachelor's degree in political science, cum laude and Phi Beta Kappa, from the University of Denver; her master's from the University of Notre Dame; and her Ph.D. from the Graduate School of International Studies at the University of Denver.
Rice is a Fellow of the American Academy of Arts and Sciences and has been awarded fifteen honorary doctorates. She currently resides in Stanford, California.
---
Session 4: Facts, Truth, and the Press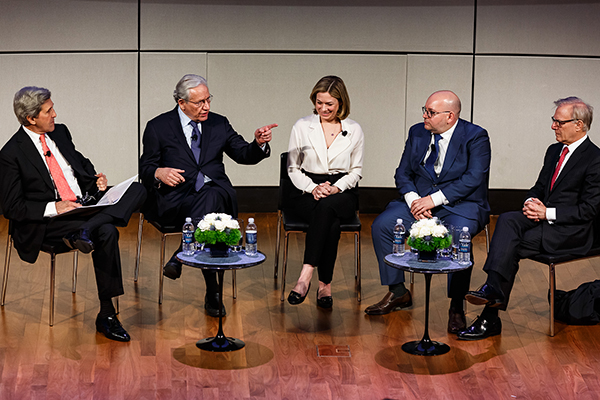 David Ignatius, author and columnist for The Washington Post
David Ignatius has been covering the Middle East and the CIA for more than twenty-five years. He writes a twice-a-week foreign affairs column for the Washington Post.
Ignatius has also written eight spy novels: "Bloodmoney" (2011), "The Increment" (2009), "Body of Lies " (2007), "The Sun King" (1999), "A Firing Offense" (1997), "The Bank of Fear" (1994), "SIRO" (1991), and "Agents of Innocence" (1987). Body of Lies was made into a 2008 film starring Leonardo DiCaprio and Russell Crowe.
Ignatius joined The Post in 1986 as editor of its Sunday Outlook section. In 1990 he became foreign editor, and in 1993, assistant managing editor for business news. He began writing his column in 1998 and continued even during a three-year stint as executive editor of the International Herald Tribune in Paris. Earlier in his career, Ignatius was a reporter for The Wall Street Journal, covering at various times the steel industry, the Justice Department, the CIA, the Senate, the Middle East and the State Department.
Ignatius grew up in Washington, D.C., and studied political theory at Harvard College and economics at Kings College, Cambridge. He lives in Washington with his wife and has three daughters.
Elise Jordan, political analyst and writer
Elise Jordan is a political analyst for NBC News and MSNBC and a contributor to Time magazine. She was a policy adviser to U.S. Senator Rand Paul's 2016 presidential campaign.
During the George W. Bush administration, Jordan worked in the White House Office of Presidential Speechwriting and at the State Department as a speechwriter and adviser to Secretary of State Condoleezza Rice.
Jordan is a 2004 graduate of Yale University.
Jason Rezaian, author and Global Opinions writer for The Washington Post
Jason Rezaian is writer for The Washington Post. He was the Tehran bureau chief and now writes for the Global Opinions section. He is a CNN contributor and the author of "Prisoner." While based in Iran he reported on two presidential elections, Iran's nuclear negotiations with global powers, the effects of one of the most punitive sanctions regimes in modern times and environmental issues, as well as the stories of everyday Iranians. In 2014, Rezaian and his wife were detained and he spent 544 days in the notorious Evin prison before his release on the same day that the historic nuclear deal between Iran and world powers was implemented.
Bob Woodward, Pulitzer Prize-winning journalist and author
Bob Woodward is an investigative journalist. He has worked for The Washington Post since 1971 as a reporter and is now an associate editor there. He and Carl Bernstein are the authors of "All the President's Men" and "The Final Days." Woodward has won nearly every American journalism award, and the Post won the 1973 Pulitzer Prize for his work with Bernstein on the Watergate scandal. In addition, Woodward was the main reporter for the Post's articles on the aftermath of the September 11 terrorist attacks that won the National Affairs Pulitzer Prize in 2003. Woodward has authored or coauthored 19 national best-selling non-fiction books.
---
Session 5: Historical Perspectives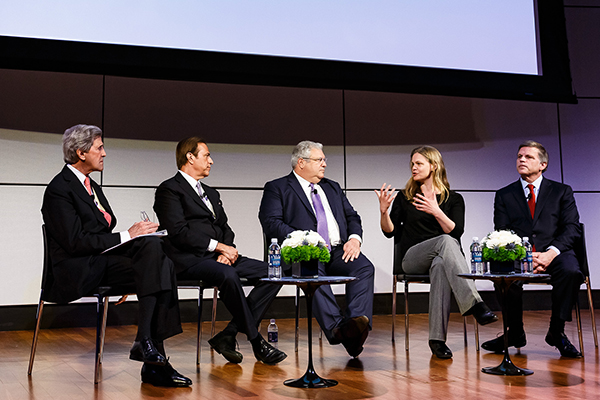 Michael Beschloss, historian and author
Michael Beschloss is an award-winning historian, scholar of leadership and bestselling author of ten books—most recently the acclaimed New York Times and Wall Street Journal bestseller Presidents of War.  The New York Times Book Review calls Presidents of War "a superb and important book, superbly rendered."  The Financial Times says that the book "looks at leadership from every angle" and calls it "epic" and "magisterial."  The historian Ron Chernow calls the book "monumental and profoundly important."  Tom Hanks says, "Once again, Beschloss captures our Presidents in terms both historic and human."
The Charlotte Observer says, "Michael Beschloss knows more about America's Presidents than perhaps anyone on earth."  Beschloss appears regularly on television as the NBC News Presidential Historian and contributor to the PBS NewsHour.  He has also been a contributing columnist to the New York Times.  He has won an Emmy for his television work and received six honorary degrees and numerous other awards.  He has the largest Twitter following of any American historian, in the neighborhood of 400,000.  His Twitter account appears on Time Magazine's list of the world's top Twitter feeds.
Born in Chicago, Beschloss is an alumnus of Phillips Academy (Andover) and Williams College, where he studied under James MacGregor Burns, author of what remains the classic book on leadership.  At the Harvard Business School, Beschloss studied leadership in both the private and public sectors. He has served as an historian at the Smithsonian, a scholar at the University of Oxford, and a senior fellow of the Annenberg Foundation.  Among his earlier books are two volumes on Lyndon Johnson's secret tapes, The Conquerors, about Franklin Roosevelt, Nazi Germany and the Holocaust, and Presidential Courage.  He was also co-author (with Caroline Kennedy) of the number-one global bestseller Jacqueline Kennedy: Historic Conversations about Life with John F. Kennedy.
Douglas Brinkley, author and professor of history, Rice University
Douglas Brinkley is the Katherine Tsanoff Brown Chair in Humanities and Professor of History at Rice University, a CNN Presidential Historian, and a contributing editor at Vanity Fair.  In the world of public history, he serves on boards, at museums, at colleges, and for historical societies. The Chicago Tribune dubbed him "America's New Past Master." The New-York Historical Society has chosen Brinkley as its official U.S. Presidential Historian. His recent book Cronkite won the Sperber Prize, while The Great Deluge: Hurricane Katrina, New Orleans, and the Mississippi Gulf Coast received the Robert F. Kennedy Book Award. He was awarded a Grammy for Presidential Suite and is the recipient of seven honorary doctorates in American studies. His two-volume, annotated Nixon Tapes recently won the Arthur S. Link–Warren F. Kuehl Prize. He is a member of the Century Association, the Council on Foreign Relations, and the James Madison Council of the Library of Congress
Beverly Gage, Brady-Johnson Professor of Grand Strategy and of History at Yale
Beverly Gage is professor of 20th-century American history and director of the Brady-Johnson Program in Grand Strategy. Her courses focus on American politics, political thought, social movements, and governance, broadly conceived.
She is the author of The Day Wall Street Exploded: A Story of America in its First Age of Terror, which examined the history of terrorism in the late 19th and early 20th centuries, focusing on the 1920 Wall Street bombing. Her current project, G-Man: J. Edgar Hoover and the American Century, is a biography of former FBI director J. Edgar Hoover.
In addition to her teaching and research, Professor Gage has written for numerous journals and magazines, including the Journal of American History, the Journal of Policy History, the New York Times, the Washington Post, and The Nation. She is currently a contributing writer at the New York Times Magazine. In 2009, Professor Gage received the Sarai Ribicoff Award for teaching excellence in Yale College. In 2015, she was elected to serve as the first chair of Yale's Faculty of Arts and Sciences Senate. Professor Gage is a graduate of Yale University (1994, BA, American Studies) and Columbia University (2004, PhD, History).
Robert Kagan, historian, author and senior fellow, Brookings Institution
Robert Kagan is a senior fellow in the Foreign Policy program at Brookings. He is a contributing columnist at The Washington Post. His new book is The Jungle Grows Back: America and Our Imperiled World (Knopf, September 2018). His previous book was the New York Times bestseller, The World America Made.
He is also the author of Return of History and the End of Dreams, Dangerous Nation: America's Place in the World from its Earliest Days to the Dawn of the 20th Century, Of Paradise and Power, and A Twilight Struggle: American Power and Nicaragua, 1977-1990. For his writings, Politico Magazine has named Kagan one of the "Politico 50," the top "thinkers, doers and visionaries transforming American politics." His most recent essays include "The Twilight of the Liberal World Order" in Brookings Big Ideas for America and "Backing into World War III" in Foreign Policy.
He served in the State Department from 1984 to 1988 as a member of the policy planning staff, as principal speechwriter for Secretary of State George P. Shultz, and as deputy for policy in the Bureau of Inter-American Affairs. He is a graduate of Yale University and Harvard University's Kennedy School of Government and holds a doctorate in American history from American University.