Quarterly, first and fourth argent an Armillary Proper, second and third Azure a Fess Argent.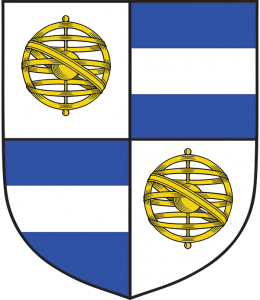 The Jackson School's shield is divided into quarters and features blue and white horizontal stripes and two gold armillary spheres. The colors and symbolism were chosen to visually represent the broad theme of navigation and the joining of disparate interests that is fundamental to cooperation in a global context.
The shield is divided into quarters to represent a balanced distribution of power among individuals, families, political alliances, or business organizations — as in a marriage or other committed joint venture.
The primary quarters of the Jackson School shield, the first and fourth, display an armillary — an ancient device, developed in China and Greece in the fourth and third centuries BCE, respectively. It was used throughout Europe and Asia in Early Modern times. Armillary spheres modeled the apparent positions of the sun, moon, planets, and stars related to the Earth, providing solutions to various timekeeping, navigational, geometric, and astronomical problems. They also served as a tool for teaching about these matters in a geocentric context.
The armillary spheres displayed on this shield symbolize the range of complex issues that will be addressed by the Jackson School. They reference the work of the world's nations, cultures, and organizations to understand their opportunities for growth and advantage while confronting the practical challenges of competitive coexistence.
The design of the second and third quadrants is based on the international maritime signal flag that represents the letter "J" for Jackson. Coincidentally, the "J" signal flag is blue and white —the colors of Yale University. The level design of these quarters represents peace and perspective—as in the long view of the horizon over a calm sea.