Karam Alhamad is an MPP student at Jackson
Most days, Karam Alhamad, a graduate student at the Jackson Institute for Global Affairs, can be found at Mediterranea, a restaurant and shisha bar on New Haven's Orange Street that entices passersby with big bay windows lined with colorfully embroidered pillows. Walk a narrow hallway past the kitchen, into the red banquette-lined back room, and there's Alhamad, settled into a corner with his laptop and a tall, green-tipped shisha (also known as a hookah), filled with apple-flavored tobacco. Since January, when he arrived at Yale, this has been a place to study, to meet with other students, and to unwind. "I have a window to home here," Alhamad says.
Home, for Alhamad, is Deir Ezzor, a city in eastern Syria, where he was a student, a photographer and journalist, and a democracy activist in a country riven by conflict. After being detained by Bashar al-Assad's government four times — the last for nearly a year— he fled to Turkey in 2014. Since then, he has worked in international development; spent time in the United States on a fellowship; finished his degree in Berlin; got married; started a blockchain nonprofit; and, after being admitted to the Jackson Institute for the fall of 2020, spent a year and half waiting to take his place at Yale.
It began as an intentional year-long deferral to complete the process of getting his paperwork in order. After applying for and finally receiving a new passport and visa, he planned to arrive for the fall of 2021. His flight was booked for Friday, Aug. 13. He checked in the day before; an hour later, he received an email from the U.S. embassy in Berlin: Don't go to the airport tomorrow, you won't be allowed to travel. Four days later, he was informed his visa was revoked. No one could tell him why.
It wasn't the first time he'd been prevented from traveling to the U.S. In 2017, he was denied entry to finish his bachelor's degree at the University of North Carolina when then-President Donald Trump issued an executive order barring entry into the U.S. of citizens of several predominantly Muslim countries, including Syria — what became known as the Muslim Ban.
Then, he'd pursued his education in Berlin instead. This time, bolstered by the support of the Jackson Institute — from its director and dean-designate, Jim Levinsohn, and its director of student affairs, Lily Sutton, to senior fellows with connections to the U.S. State Department, as well as Alhamad's own contacts there — the bureaucratic obfuscation didn't deter him. Over the next four months, Alhamad patiently unwound the tangle of red tape.
"I'm sure 99 out of 100 people would have given up," says Levinsohn. "When you have that kind of determination, as the head of a school, all I can do is do my best to match it."
Demonstrations and detentions
Alhamad's steady resolve began early. As a child, he listened in to his father's clandestine conversations about political action; as a college student, he chose petroleum engineering to better understand how Syria's resources were being allocated.
In 2011, when protests in the country began, part of the pro-democracy movement around the region known as the Arab Spring, Alhamad took to the streets as well. He carried his camera to document the movement and, to protect his identity, wore a mask in the style of the main character from the movie "V for Vendetta."
"We have a saying in Syria: 'Even walls can hear you,'" says Alhamad. "You can't trust even your family. There is always this state of fear that someone would try to report you."
As the protests, met with force by the army, escalated into armed resistance, Alhamad remained dedicated to opposition in the form of reportage. "I saw my friends holding guns," he says. "I decided to continue holding my camera." He provided photographs to the Washington Post, Reuters, and the Associated Press, using the pseudonyms Karam Jamar or Zendetta — a portmanteau of Deir Ezzor, his hometown, and Vendetta.
In 2011 and 2012 he was detained three times. The first lasted only a day. The second time, security forces took his brother Karem in, too, confused by the similarities in their names. His brother was released after 14 days, but Alhamad was detained for 70, interrogated and tortured by intelligence officers. Two days after being released, he rejoined the protests. "The idea of detention is to put you down and make you fear, but it just fuels you," says Alhamad. "I've seen people dying with me, I don't mind dying now in the demonstration."
After his third detention, he decided to limit himself to areas controlled by revolutionaries. He continued his studies, established a media office for the city, and was elected to the Deir Ezzor provincial council. The position gave him the opportunity to work closely with international donors and to travel to Turkey for training and meetings with diplomats and humanitarian organizations, giving him new perspective on Syria's conflict.
Then, in August 2013, he returned briefly to a regime-controlled area to visit his mother — who he hadn't seen for months — and to get a passport a family member had helped him secure. Within hours, the family member arrived — accompanied by several cars full of soldiers. They again took Alhamad and his brother. "This time was the most horrifying one," says Alhamad. The brothers were transported by military plane to Damascus and held at the Palestine Branch, a prison operated by Syrian intelligence agents.
Alhamad recalls the year he spent in the Palestine Branch calmly but vividly: the heat of the small room, where detainees crowded together; the constant fear and anguish of watching others die and knowing you might be next. The extreme stress caused his brother to wake up one day having lost three years of memory: he had no idea where they were or why.
Alhamad, along with Karem, was finally released in July of 2014, and a month later he'd made his way to Turkey. (His father remains in Syria; his mother, sister, and two other brothers are in Turkey. Karem is at Columbia University, studying computer science.)
In Turkey, he continued his work as a journalist and advocate for detainees in Syria. After a spell in New York and Washington D.C. on the U.S. State Department-sponsored Leaders for Democracy fellowship, in 2015, he worked in international development, providing briefings for diplomats, high-ranking military leaders, and politicians.
Rethinking development
During his time in Turkey, Alhamad had noticed troubling disparities in staffing in international development organizations: those from the region, like him, were paid less and advanced more slowly than an American with a college degree, despite their on-the-ground expertise. But as he continued his education, Alhamad began to be convinced that the inequities he observed in international development weren't necessarily solved with a degree. He decided that it no longer made sense for him to continue to work for other organizations perpetuating the same patterns. "It was not logical for me to keep being a Syrian for Americans and an American for Syrians," he says.
As he finished up his bachelor's degree in economics and political science, at Bard College Berlin, studying at the Jackson Institute felt like a logical next step. He wanted to continue delving into the complexities of international involvement in Syria and the Middle East and North African (MENA) region and to advocate for local decision-making in development work, with peers who are poised to take up leadership positions around the world.
Once it became clear that he needed to defer for a year, he turned his attention to developing a new company, Ze.Fi (an abbreviation of "Zendetta Finance"), a nonprofit that provides tutorials on blockchain. He now leads a 40-person team, based in 10 countries, with an aim of democratizing the technology. It can be a challenge, Alhamad says, since blockchain can be difficult to grasp even for those who are familiar with relatively complex financial systems.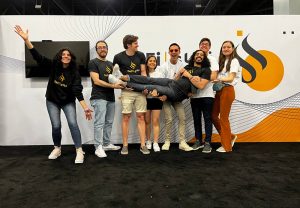 "Our focus is the MENA region, the unbanked, and marginalized communities around the world that might not have a bank account and may not understand trading in general," he says. "We have to start not with 'What is blockchain?', but 'What is money? What is finance? What is a bank? How did banks come to be?'"
Blockchain, he says, might also offer an avenue to eliminate some of the inefficiencies built into the international aid system that diminish its impact. For instance, blockchain could eliminate the need to use an intermediary and incur fees to move funds from a donor country to local organizations. Instead, those groups could be paid directly through blockchain currency.
With his new company flourishing, Alhamad was ready to immerse himself in studies. But first he had to get there.
Finding New Haven
With Alhamad unable to travel in September 2021, the Yale community stepped in. Senior fellows at the Jackson Institute plumbed their contact lists, reaching out to the State Department to understand what the problem might be, and how to solve it. Their efforts were continually stymied, Levinsohn recalls. "We kept being told no, and it was heartbreaking."
Finally, after months of effort and cross-Atlantic phone calls, the visa came through. Levinsohn called Alhamad to let him know that he should get a plane ticket immediately, without worrying about the cost, since they had donor funds that could cover it.
Alhamad agreed but declined the money — he preferred to see those resources go toward funding application fees for other Syrian students. "Even before he started, he wanted to give back," says Levinsohn.
He arrived in New Haven on Jan. 11, 2022. In Alhamad, Levinsohn sees an embodiment of the Jackson Institute's mission to educate the next generation of global leaders. "This is a guy who is committed to democracy in the Middle East, to the point of almost losing his life," he says. "He's the kind of person a place like Jackson should invest in."
In turn, Alhamad is determined to invest in his fellow Syrians. He continues to devote time to Ze.Fi, envisioning it as a new kind of international organization — one that centers the local experience, rather than marginalizes it. "We're not just translators, we're experts," he says.
He also recently launched "Zendetta," an online interactive graphic memoir that serves not only to drive more attention to the humanitarian crisis in his home country, but also as a fundraising tool. Alhamad has raised several thousand dollars through an NFT auction of the website art and donations from individuals and organizations, which will go toward grants for Syrian students to apply to universities around the world. More than 60 applications for grants have come in.
What fuels him is the sense that he's in a position to make a real difference for all Syrians — a position that is anchored and amplified by the Jackson Institute. "The freedom the curriculum gives is amazing — there is a lot of support here to do what you have passion for," Alhamad says. "I can't think of any other school that could possibly help me grow in my chosen field like that."
He points to classes like Robert S. Ford's "Arab Spring, Arab Winter," which brought together students with a variety of backgrounds working in the region, including military service. "I like to engage with people who have a different experience, so I can learn from them," Alhamad says. "But at the same time, I try to be vocal about my ideas about American diplomacy, invasion, military operations, so they can learn from me."
Alhamad's move to New Haven, for all its rewards, also has its strains. His wife remains in Berlin, and the nature of his visa — which needs to be renewed every three months — means that his status in the U.S. still feels tenuous. He suffers from survivor's syndrome: guilt that he managed to make it out of detention when so many others did not, and a feeling of responsibility for those left behind. He finds refuge and respite in the shisha bar. "I know it's unhealthy," he says. "But there's a lot of stress — it's not all milk and honey. It's hard to continue working on Syria, focus on what's going on in terms of the detainees and advocate for a free Syria, do the educational aspect of my work, and study as well."
At the same time, he's determined to get the most out of his time at Yale. He's excited for the Jackson's transition from an institute to The Jackson School of Global Affairs (which happens on July 1), the arrival of next semester's World Fellows and new students, and the possibility of creating a club within Jackson for MENA students. "You're going to create a club for only two students?" he says. "I don't care — it might grow."
Ultimately, he wants to help ensure that it does, and that more Syrian students make it to Yale — both to expand their educational opportunities, and to enrich the world view of their peers.
"You can't be a global affairs advocate or diplomat without actually understanding how others feel," he says. "It's important to hear their stories, to engage with them, and to teach them how to become diplomats and advocates for their own causes so they can create change."
---