As the Class of 2023 strode across the stage to receive their diplomas today, they did so—for the first time—under the banner of the Yale Jackson School of Global Affairs.
The 43 graduates of this year's class were celebrated at a festive ceremony at Horchow Hall in front of the Jackson School community, family, and friends. The school awarded 29 Master in Public Policy (MPP) degrees, five Master of Arts (MA) degrees and nine Master of Advanced Study (MAS) degrees.
The day began with a procession to Yale's Old Campus, where the University symbolically conferred degrees on all undergraduate and graduate students from the Class of 2023. Jackson students Sidney Cech MA '23, Christopher Kakeung Wong MPP '23 and Syuhada Adnan MAS '23 served as marshals and accepted the symbolic diploma for their respective degrees. Manuela Nivia MPP '23 served as the banner bearer for the Jackson School.
The graduates then returned to Horchow Hall for the school's diploma ceremony. Dean James Levinsohn welcomed guests and reflected on the opening of the Jackson School in fall 2022 and the significance of the school's first graduating class.
"Last fall was about what we opened; today is about why we did it," Levinsohn said. "And the why is you, the students."
"This is a school that builds on a tradition of service at this University that is more than three centuries old. That's a responsibility that you inherit and, having spent the last couple of years with you, I know that you are up to the task."
In a nod to the diversity of the graduates, class speaker Jack Parham welcomed the audience in the 11 native languages spoken by his peers, who represent 14 countries. He went on to recall how he first met his cohort, virtually, through an online messaging platform. Parham admitted that he was at first intimidated by the "shining biographies" and confidence of his classmates, channeling the wisdom of author Jack London to help him through his initial angst: "work hard, be patient, and prepare for disappointments."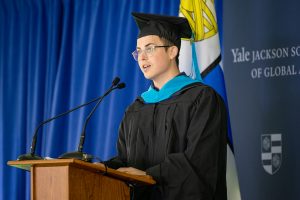 When he arrived at Jackson, however, Parham found something far different than what he expected: an engaging and thoughtful group of students who have become life-long friends.
"This is what the Jackson School has meant to me," Parham said. "For all the amazing resources and opportunities offered by this school, its true greatness lies in the community. A community of people that I know will go on to do great things — not through ambition, but through kindness."
Four students received awards for outstanding academic achievement. Michael Davies MPP '23 and Bomi Okuyiga MPP '23 received the Award for Academic Excellence in Global Affairs. Stephen Coles MA/MBA '23 and Joshua Lam MA/MBA '23 received the Miguel Ferreyros Memorial Award, which is awarded to the joint-degree student in Global Affairs with the highest academic achievement.
The day wrapped up with a luncheon with Jackson graduates and their families.
The Jackson School also congratulates its Class of 2023 undergraduate Global Affairs majors, who received their diplomas in separate ceremonies at Yale's 14 residential colleges.
---