The mission of the Jackson DEI Council is to improve diversity, equity, inclusion and global understanding for the entire Jackson community. The Council is made up of students, staff, faculty and alumni.
Each year the Council will be focused on addressing at least one of the following DEI aspirations:
Increasing the demographic diversity of the Jackson community and visitors
Creating an inclusive student, faculty, staff and alumni culture and developing programs to deepen the sense of belonging felt by all members of the community
Foster opportunities to amplify the experiences of regions of the world, with a particular focus on regions of the world underrepresented in the curriculum and co-curricular experiences
Current Members
Global Affairs Majors
Viraj Shukla '23
Valeria Bula '23
Jackson Graduate Students
Taek Jin Han MA '22
Maya Saint Germain MA '22
Jackson Alumni
Mai Truong MA '11
Jeannine Scott MA '85
Faculty and Staff
Professor Jim Levinsohn (chair)
Professor Catherine Panter-Brick
Lily Sutton (co-chair)
Alice Kustenbauder
At-Large Member
Diego Tituana (2019 World Fellow)
---
Member Bios
Valeria Bula
Global Affairs Major
Valeria Bula (she/her) is a junior in Berkeley College majoring in Global Affairs and Ethnicity, Race & Migration. She is from Barranquilla, Colombia but grew up in the Latine migrant working class community of Hialeah, FL. Much of her work and passions are nestled in this upbringing. Her own experiences growing up in Hialeah inform her current work with the local Fairhaven migrant community through Junta for Progressive Action — New Haven's oldest Latine and undocumented-serving social services agency — for over a year. This experience, coupled with her coursework in ER&M, have guided her in approaching the world in a far more empathetic way by more thoroughly understanding the effects of systemic inequality on overexploited communities. Her engagement with the Jackson Institute and Global Affairs coursework is thus informed by this developing critical lens that is able to reject and question the human rights frameworks under which institutional relief work operates.
She has learned from these spaces and from her communities, namely the queer and first-generation/low-income communities, as well as her work with La Casa Cultural. Within the Jackson Institute, she has had the privilege of meeting faculty and peers who share similar priorities in working to envision a more just and humane future, yet hail from vastly different walks of life. It is this diversity of experiences and identities among the community, she believes, that the Jackson Institute must seek to amplify, while actively working towards becoming a more suitable, welcoming environment for underserved students. By serving on the DEI council, she hopes to be a part of bringing a greater sense of accountability in the Jackson Institute as well as push towards the admittance of a more diverse, empathetic community of students.
Read Full Bio
Taek Jin Han
Master of Arts in Global Affairs, Class of 2022
Taek Jin Han is a Foreign Service Officer from the Republic of Korea. He was born and raised mostly in Seoul as a second child of a Catholic family. At the age of 15, out of his comfort zone, Taek Jin went to a high school in the U.S. Living with a school teacher's family in Pennsylvania, he learned to understand and communicate with the people who have different ideas and backgrounds. Taek Jin still cherishes that relationship as one of the most formative experiences for his personal and professional growth.
At Jackson, Taek Jin wants to build a relationship with future policy leaders of the world. He is always aware of the fact that South Korea could survive in the Korean War, with the help of more than 60 countries in the world. As a former sergeant of the Korean Army, Taek Jin is also humbled by the history that hundreds of thousands of men and women were called to serve to protect his country mostly at the ages of the students at Jackson today. For this reason, at the DEI council, Taek Jin hopes to discuss providing more assistance for military veterans coming to the school.
Read Full Bio
Alice Kustenbauder
Program Coordinator, Maurice R. Greenberg World Fellows Program
I'm Alice Kustenbauder. I was raised in a small city in Southern New Jersey by a single mother of three girls. We often went without a car or a television, but we always had food, heat, Mom, and (in a child's eyes) extravagant birthdays and holidays. I attended public school in our racially diverse town for thirteen years, but attended a private, religious, predominantly white rural college in Pennsylvania. It was an uncomfortable transition.
After a brief stint as substitute teacher in my hometown, I stayed in that suburban PA area for four more years before moving to New Haven in 2003. I was grateful to be in the land of sidewalks again! And relieved to secure a job (with benefits) at Yale. Four years later, I became a mother. And just a few months later, a single one.  It, too, was a hard transition, but a role that has become core to my adult identity.
At the Jackson institute, I currently coordinate logistics for the World Fellows Program and have ten years' experience as registrar. While it's amazing to interact with people from all over the world in so many different fields, I am often struck by the lack of diversity in roles at the University. I have yearned for a way to address that, both at Yale – and beyond, in our shared city, in our personal lives, and in these somewhat United States.  I am honored and excited to be a part of the Jackson DEI Council.
Jim Levinsohn
Director, Jackson Institute for Global Affairs
James Levinsohn is the Charles W. Goodyear Professor in Global Affairs at Yale's Jackson Institute for Global Affairs and professor of economics and management at the Yale School of Management. Professor Levinsohn is the founding director of the Jackson Institute and in that capacity he oversees the Global Affairs major in Yale College, the Global Affairs MA programs, and the Yale World Fellows program. Outside of Yale, he is a member of the Council on Foreign Relations and is a Research Associate of the National Bureau of Economic Research. He has consulted for many government and non-governmental organizations as well as many multinational corporations. Professor Levinsohn has served on the editorial boards of the American Economic Review, the Journal of International Economics, the Review of Economics and Statistics, and the Journal of Economic Literature. His research has been recognized with major grants and his teaching has been recognized by "Best Professor" awards at both Yale and the University of Michigan where he was on the faculty for 20 years. Professor Levinsohn's fields of expertise are international economics, industrial organization, economic development, and applied econometrics. His current academic research is focused on estimating the impacts of internal migration on household well-being in South Africa and estimating the demand for sanitation in Bangladesh.
Read Full Bio
Catherine Panter-Brick
Bruce A. and Davi-Ellen Chabner Professor of Anthropology, Health, and Global Affairs
My name is Catherine Panter-Brick. I was raised by a French mother and an English father and grew up as a French speaker in London.  I first went to school, for two years, in Zaria, Nigeria; looking back, this was a formative experience for me. After high school at a Lycée and a semester at a university in Zimbabwe, I switched my education to the UK because I was given the chance to study at Oxford University. I became an anthropologist, and learnt to speak Arabic, Nepali, Spanish, and basic Tamang for my fieldwork.  My brain is attuned to diverse languages, cultures, and social connections.
I work on global health, especially mental health, with communities who live in humanitarian crises, especially those who live in the wake of war.  At the Jackson, I think of all the ways we can connect people with policy.  This means conducting research in ways that will actively recognize human dignity and social inclusion, as well as informing humanitarian practice and policy in ways that will generate new insights and transformational change.
Read Full Bio
Maya Saint Germain
Master of Arts in Global Affairs, Class of 2022
Maya Saint Germain was born and raised in Rhode Island, USA. She spent her childhood in Providence and attended high school in the coastal city of South Kingstown. She has been greatly shaped by the generations of strong women in her family, and she is especially close with her mother and sister. Her interests in foreign policy, structural inequality, and humanitarianism are informed by her parents' immigration to the United States from Haiti and Russia. Along with the ties she maintains with her heritage, her travels and work abroad have underscored for her the importance of multi-culturalism. Maya believes that embracing one another with understanding and empathy is the best way to harness our full potential and create change. As a biracial woman who grew up in suburban Rhode Island and began her career in STEM, she has often found herself in spaces where she is the only person who looks like her, which can be isolating and disempowering. While on the Jackson DEI Council, Maya hopes to be a voice for the diverse experiences of her peers and advocate for members of historically marginalized groups within and outside of Jackson. She feels privileged to contribute to Jackson's forward-thinking DEI strategy.
Read Full Bio
Jeannine Scott
Consultant
I grew up in New Orleans, LA (USA) in a family with 3 girls – I was the middle child.  I also had the benefit of being in a multi-generational household with my maternal grandparents; and spent many a summer in Bunkie, LA on my father's parents' farm.  New Orleans is a medium-sized city and during my formative years (1960s-1970s) was probably +/- 500,000.  But its reputation for food, music and great cultural lore and diversity far outweigh its actual size.  NOLA is known the world over.
I am an African-American woman – just turned 60!  I now live in Washington, DC; but have lived in Poughkeepsie, NY (Vassar College undergrad); New Haven, CT – Yale IR program); Dakar, Senegal twice (summer of junior year abroad then as a professional for 3 years in the late 1980s; and Abidjan, Côte d'Ivoire for the decade of the 90s to 2001, when I returned to the US.  I speak fluent French and have some Portuguese proficiency.
It's more of an institutional relationship which has led to a lifetime of friendships around the world and especially across the African continent.  The African Development Bank is a microcosm of the world, with staff and leaders from every part of the globe.  My decade spent there fostered personal and professional relationships that allow me to feel comfortable virtually anywhere in the world – whether visiting or working.  It also provided me rich cross-cultural connections as well as an unparalleled, global network of friends and colleagues.
My professional experiences have all included working with diverse populations world-wide.  This has required me to have a keen understanding of the value of DEI.  By virtue of personal and professional experiences, I understand the complexities, challenges and opportunities that characterize DEI.  This includes practical programmatic/operations applications, recruiting and working with multicultural and multi-ethnic staff in international contexts, institutional policy formulation, and advocacy work.  DEI issues have always been a part of my experiences inherently and specifically, and I have always understood that cultural and racial diversity, equity and inclusion (DEI) are significant in any arena that hopes to achieve substantive, sustainable and concrete results.
Viraj Shukla
Global Affairs Major
My name is Viraj Shukla, and I am a junior at Yale studying Global Affairs and Computer Science. I grew up in Glendale, Arizona, a suburb in the northwest of Phoenix. I am Asian Indian, and I am a native English speaker and fluent in Spanish. Some of my most important relationships are with my mentors, many of them Yale alumni, who have helped me leverage my unique social and academic background into fulfilling, impactful experiences both during and after my time at Yale. My most impactful Jackson experiences so far have come from my Global Affairs coursework. Despite their virtual environment, I have been able to use these classes to connect with individuals from all around the world and all walks of life, all of whom are excited to tackle our most pressing global challenges. As part of Jackson's DEI Council, I hope to ensure that as many of these voices are heard as possible, from the classroom to speaker events to Senior and Visiting Fellows who can share their diverse experiences with Yale students and the larger academic community. I also wish to ensure that faculty, students, and staff are aware of the importance of an inclusive academic culture and the steps we must take to create one.
Read Full Bio
Lily Sutton
Director of Student Affairs
I'm Lily, director of student affairs here at the Jackson Institute. I grew up in New York City in a family of musicians (including myself on violin) and a mother who taught opera students from across the world out of our one-bedroom apartment.  From childhood through my early professional career, my community was comprised of musicians and students from across the world, from a diversity of backgrounds, cultures, and languages. I'm inspired and motivated by music's ability to bring people together across boundaries and differences and musicians' ability to communicate social problems in a way no other discipline can do. Jackson shares this incredible convening power in its interdisciplinary approach to educating leaders, in the conversations we nurture, in the diverse community we build. I'm very excited to be part of this first convening of a committee whose focus is diversity, equity, inclusion, and belonging. The work of this committee will strengthen our community, expand voices and perspectives in our work, and better prepare our students to be the most effective leaders in global affairs.
Diego Tituaña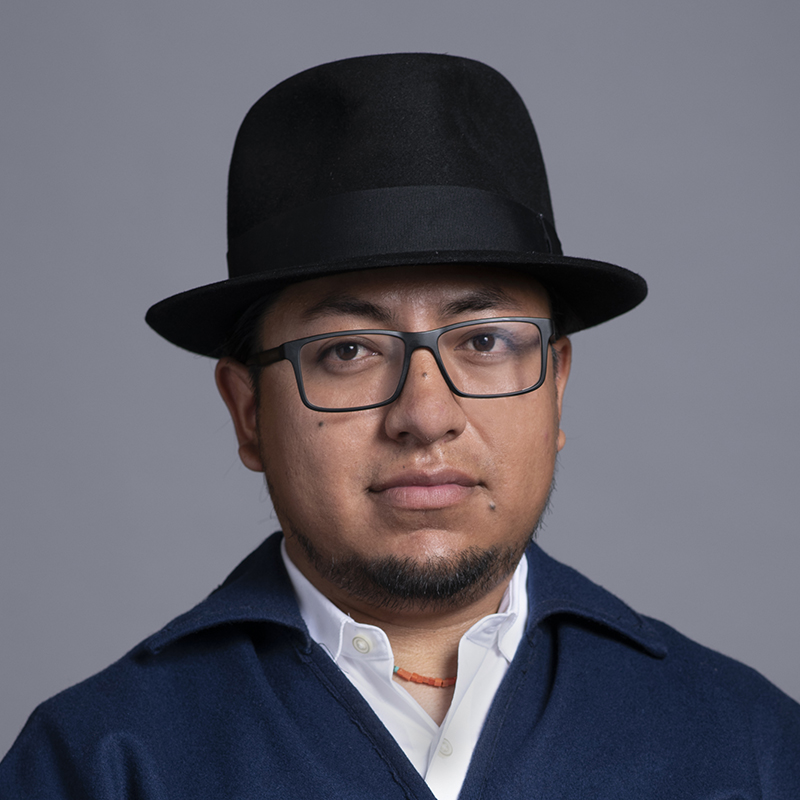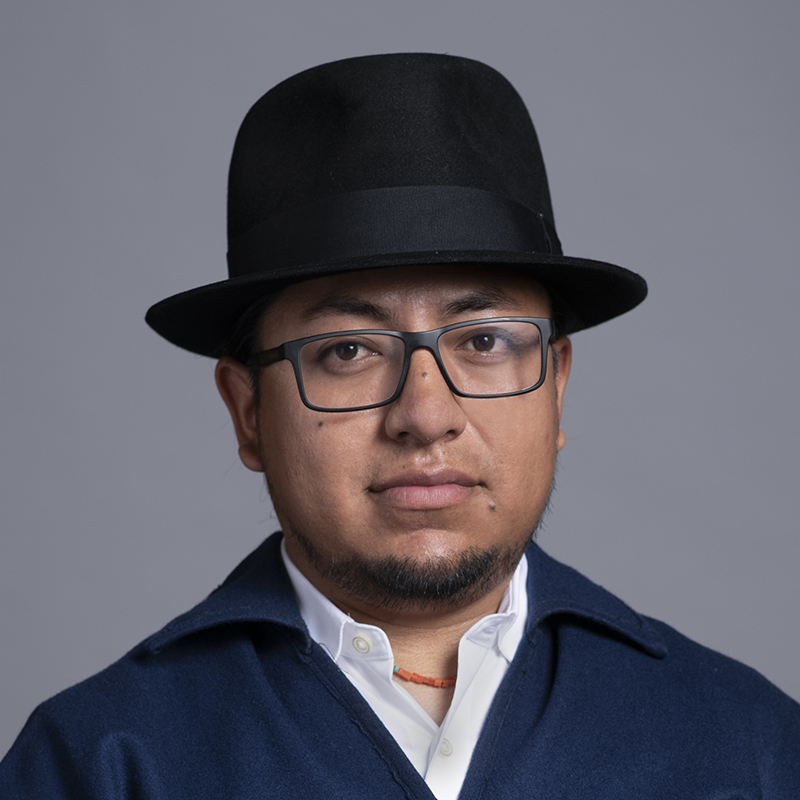 Diplomat, Ecuadorian Ministry of Foreign Affairs
I am Diego Tituaña and I belong to the Kichwa-Otavalo nation. I grew up in an indigenous family in a small town called Otavalo in Ecuador. The handicraft trade has been a fundamental part of my development. In my community we recognize ourselves as Mindalaes: an ancient group of indigenous people specialized in the art of trade and commerce. Due to this activity, my family and I have traveled to different parts of the world and we have learned closely the difficulties that migration entails.
As a 2019 World Fellow, it was impacted knowing the incredible work that other members of the program were doing in different parts of the world. I learned a lot from the unique perspectives and profiles of my colleagues for their effort to have a better place to live for all of us. I believe that this exclusive diversity of thought and experience enriched the academic development of Yale University and benefited the New Haven community. I consider that my experience of life as an indigenous, migrant, and diplomat also contributed to a better understanding of global affairs from a perspective that included the challenges faced by minorities and my work from the field.
To strengthen and achieve full diversity, equity, and inclusion, it is important to promote and encourage the search for new profiles that include the work and worldview of indigenous peoples from different parts of the world. It is crucial to support their academic and professional development and promote mechanisms that seek to redress our historical inequalities and exclusions.
Read Full Bio
Mai Truong
Director of Research Operations, Freedom on the Net
I'm a first-generation daughter of refugees from Vietnam who were lucky to escape to the US a few years after the fall of Saigon in 1975. Having grown up in San Diego, CA in a neighborhood with very little diversity, I spent much of my adolescence and early adulthood in conflict with my Asian-American identity. After I learned about the Vietnam War—or as novelist Viet Thanh Nguyen corrects us, the American War in Vietnam—I grappled with a lot of dissonance about my existence and identity. A war that should never have been waged was the reason behind the opportunity I had to be born and raised in the US. This dissonance sparked my desire to study global affairs, to better understand how geopolitical dynamics impact the lives, trajectories, and identities of ordinary people.
My experience as an MA student at Jackson was formative, in no small part due to the diverse community of peers I met, many of whom are now lifelong friends. Despite Yale's vibrant student community, I think the Global Affairs program at Jackson (based on my experience from 2009-2011) can better reflect issues of diversity, equity, justice, and inclusion in its curricula, culture, and teaching composition. With ten years of work experience in global affairs since graduating from Jackson, I've observed first-hand how a failure to understand the world around us through the lens of DEI can perpetuate systemic racism and undermine good intentions to make a difference. Through my participation on the DEI Council, I hope to contribute these perspectives to help strengthen Jackson's preeminent role as a pipeline for the world's future leaders who will work to create a truly more representative and equitable society.
Read Full Bio