From a young age, Jackson alum Rheanne Wirkkala knew she wanted to work in government. The steps she's taken since — from Yale to Capitol Hill to the Pentagon — have been in pursuit of that dream.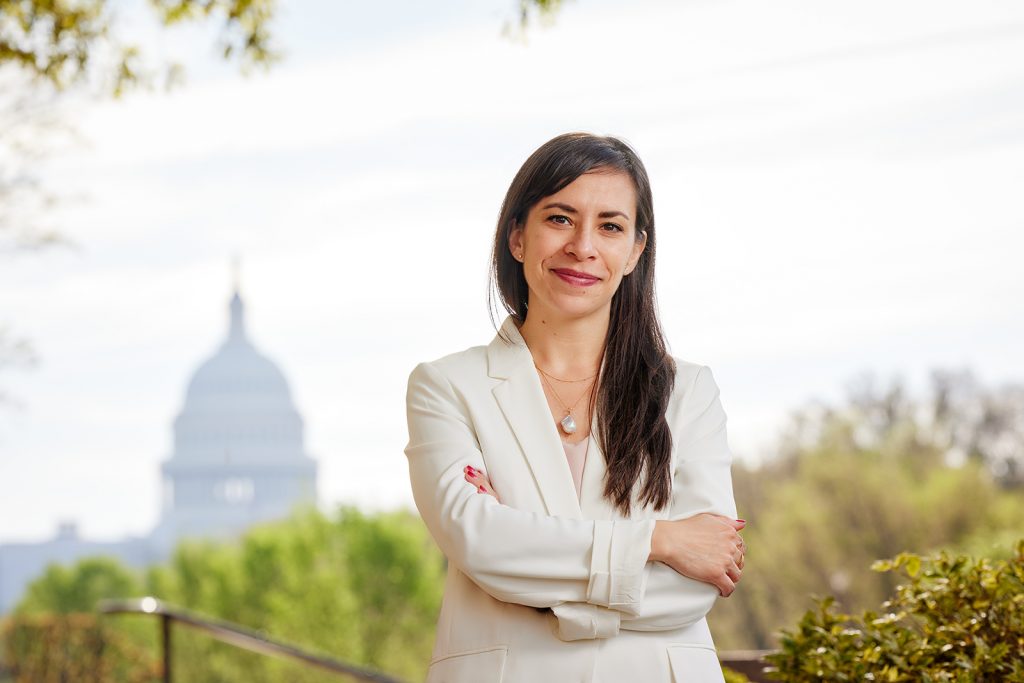 In the 1990s, student government at Martha Lake Elementary School in Lynnwood, Washington, was reserved for students in grade 4-6. That did not sit right with Rheanne Wirkkala '11, then a second grader.
Seeing her older brother involved with student government convinced an aggrieved Wirkkala to press the school administration to create a position for students in her grade. As a compromise, the principal allowed her to hold a timer during school assemblies to monitor how long it took students to quiet down, tracking for improvement over the school year.
It wasn't much of a role, but it was a start.
"I'm one of these strange people who knew that I wanted to go into government service from a young age," says Wirkkala. "I had a really strong sense of enjoyment thinking through representation and how to ensure the voices of the students were heard in my elementary school. I dreamed of coming to Washington and working in Congress, working in government — it's just always been there."
That passion endures for Wirkkala, now fulfilling her dream of working in Washington as the Assistant Secretary of Defense for Legislative Affairs at the Department of Defense (DOD). Her nomination received Senate confirmation in November 2022, with considerable support from Congressman Adam Schiff, who oversaw the House Permanent Select Committee on Intelligence when Wirkkala served as a senior staff member on the committee.
"She is an intelligence and defense expert — with tremendous experience with the legislative process — and she has served with unmatched integrity," Schiff said in a statement following Wirkkala's nomination.
'An inch deep and a mile wide'
Before entering her current role, Wirkkala joined the Biden Administration in February 2021 as a special assistant for strategy to Secretary of Defense Lloyd Austin, where she helped determine national defense priorities and long-term strategic planning. Now at the DOD, she is supporting Austin and the department's dealings with Congress as his legislative adviser, leading a team that bridges the gap between the two entities by promoting strategy, policy, and budgets.
It requires "juggling a million things at once," says Wirkkala, something she learned as a staffer on the House Intelligence Committee. There, she held several roles — director of investigations, deputy director of investigations, policy director — and was also required to write briefings and statements on countless international matters that would be presented before Congress, often with just hours to prepare.
"The cool thing about Congress is that you're an inch deep and a mile wide," she says. "You're shape-shifting and changing from one topic to the next, all day long.
"Working for Rep. Schiff, I was asked to provide as much as I knew about a topic and communicate that information in a way so that he was getting the most important, concise points. And he had to trust that I knew enough on, say, Iran's nuclear program or the People's Republic of China. Those skills I honed then — to be nimble and to communicate effectively — are really helping me now."
But it's not just her time in Congress that is helping her — it's her uniquely varied background that has taken her to different branches of government, both in civilian and appointed capacities. She began while studying at Yale as an intern with the State Department's Division for Counter Threat Finance and Sanctions — with funding from the Yale Brady-Johnson Program in Grand Strategy. She also spent three years working for the DOD's Defense Intelligence Agency (DIA), as well as time as a private political consultant.
"There are actually a surprisingly small number of people who have worked in the legislative branch and the executive branch, yet the two sides believe they understand each other perfectly," says Wirkkala. "There's often a lack of ability to find common ground because of these assumptions. I feel very lucky to have spent time in multiple corners of government and I always encourage others to do the same."
Wirkkala also encourages young people interested in working in government to develop a specific expertise, which she believes gives "you so much more credibility in a place like Washington." For her, becoming an expert on Afghanistan and Pakistan while at the DIA, coupled with her communication-building in Congress, helped move her career forward.
A place for intellectual curiosity
Even though she knew she wanted to work in government, Wirkkala's career didn't necessarily stay on that track. As an undergraduate, she studied philosophy at Boston University, loading up on political theory courses and studying abroad at Oxford during her senior year. After unsuccessfully applying to jobs in Washington after graduation, Wirkkala followed her boyfriend (now husband) to Japan, teaching English as he completed postgraduate studies in Japanese.
While in Japan, Wirkkala began wrestling with the idea of a master's program in international relations. She settled on Yale, she says, because she "wanted to be somewhere where I was challenged and where I was surrounded by really hungry people who were really going to push the boundaries of my own thought and my own learning."
After being accepted to Yale in fall 2009 and matriculating the following year, she quickly learned she had made the right choice.
"You can take yourself as far into any vector as you want, just purely based on your own intellectual curiosity," Wirkkala says of her time at Yale.
"I went in knowing that I wanted to go into public service, but also loving philosophy and wanting to know more about grand strategy. So, I got both — the real-life, hands-on type experience of public service and being steeped in an intellectual environment, where you can pursue pretty much anything you can imagine."
The perfect place for someone who has been doing just that since second grade.