The U.S. and China have been increasingly wielding their might on the African continent, raising questions for African nations on everything from trade to development to the environment. Victoria Kipngetich '24 returned to her native Kenya this summer to learn more about the diplomatic strategies African nations are taking in the midst of this emerging power competition.
Nestled between the American and Tanzanian embassies in Nairobi lies the residence of Ambassador Sally Kosgei. She welcomed me into her home with a warm smile and a pot of chai, which we sipped unhurriedly throughout the afternoon's interview. During our time together, she reflected on her tenure as Kenyan High Commissioner to the United Kingdom and Permanent Secretary for Kenyan Foreign Affairs, providing insights into the rapidly changing face of Kenyan diplomacy. "Things at the Ministry are very different from when I left," she told me, "but respect for our diplomatic efforts abroad, particularly in relation to our neighbors, has always been high."
The Brady-Johnson Program in Grand Strategy summer fellowship brought me back home to Nairobi, Kenya. The summer research project encourages us, as students of grand strategy, to leverage the conceptual frameworks for large-scale social change learned in the spring semester to formulate a strategy to solve a pressing issue in an area of our choosing. Accordingly, my summer research was focused on the development of a comprehensive diplomatic strategy for Kenya in light of emerging great power competition dynamics on the African continent.
More specifically, my research centered around two key points. Firstly, I wanted to better understand the factors informing Chinese and U.S. involvement in Kenya in realpolitik terms and how these involvements serve both countries' broader geostrategic interests. I also wanted to explore how Kenya can diplomatically leverage this renewed interest in Africa by great powers to catalyze the achievement of its development goals, negotiate more equitable and sustainable trade deals and infrastructure partnerships, and avoid harmful Cold War-like bifurcations.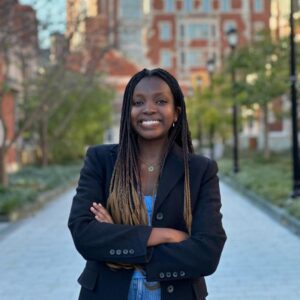 In trying to examine these questions, I was led to Sally and other actors in the Kenyan, American, and Chinese foreign policy spaces. I had the opportunity to interview former U.S. ambassadors to various African countries to determine the strategic elements of the Biden administration's revitalized Africa policy. In the U.S. space, diplomats appear to understand the rising importance of Africa as a regional bloc of influence and the rising demands for more inclusive global governance systems. As one ambassador told me, "It's encouraging to see this administration trying to strengthen our ties to Africa after many years of neglect and disrespect. But it's difficult to see how effective and how earnest our re-engagement will be if we continue to frame our relationships in terms of competition with China and Russia."
The most exciting part of my research was seeing how quickly responsive diplomatic strategies were evolving throughout the summer, forcing me to question my assumptions about the expectations of various actors and take my research in directions I could have never thought of at the inception of the project. As an example, while I had originally narrowed the scope of my project to focus on just the U.S. and China, I ended up studying the surprising impact of Russian online disinformation and misinformation campaigns on support for Ukraine in Kenya. Additionally, given the near-impossibility of gaining a realistic understanding of the Chinese perspective through interviews with diplomats, I found it unexpectedly useful to interact with individuals in the private sector and the banking industry to gauge their interactions with Chinese investors on the continent.
Many of the Kenyan actors I spoke to were happy to see that Kenya has stepped up in matters of regional stewardship. Today, Kenyan President William Ruto is frequently called upon to present the "African perspective" at international summits and has offered to mediate escalating military situations in Niger and Sudan, delivering on the famous dictum of "African solutions to African problems." The understanding from those I interviewed is that these assertions of African agency in foreign policy appear to be limiting the influence of external actors on African security issues. This all points to a very promising future for African diplomacy, a future that is unbounded by needless geostrategic development concessions.
---