An advocate for slow, low-carbon transportation, Emily Sigman traveled from New Haven to Ghana entirely by commercial freighter ship and rail.
One of the remarkable things about Yale is the opportunity that students have to learn from renowned scholars in intimate settings.  In my mind burns bright the memory of sitting between two classmates in the living room of preeminent Cold War historian Prof. John Lewis Gaddis. Prof. Gaddis sat in an armchair, his back turned to the roaring flames inside of his modest fireplace, conversing with our class about his biography of George Kennan, the great architect of US-Soviet relations.
The cozy evening was part of a requisite history course in the Jackson Institute MA program, at that time taught by another celebrated historian, Prof. Timothy Snyder.    Prof. Snyder would normally preside at the head of a long table as we gathered for our weekly discourse in the sunlit seminar room of Horchow Hall. That evening, however, he stood silent on the outskirts of the parlor, leaning against the entryway doorposts while Prof. Gaddis entertained our questions and ideas.
Perched at the edge of the sofa, I spoke with Prof. Gaddis about Kennan's farm in Pennsylvania, marveling aloud at how he managed to live the dual life of a farmer and a diplomat.  I'd spent five years prior to graduate school trying my hand at growing food for a living, an experience vastly different from that of graduate school.  Another remarkable thing about Yale is the support afforded for student travel abroad and at that point—two years into a joint Forestry and Global affairs degree—Yale had already given me the opportunity to study and work in Sri Lanka, Ethiopia, Bulgaria, and Macedonia (and I was soon to be off to Argentina, Panama, Alaska, Mongolia, Russia, and France).  I increasingly wondered how I'd be able to keep my hands on the earth as my head became increasingly filled with far-flung aspirations.
I'll never forget how Prof. Gaddis lit up as he spoke of the influence of farming on Kennan's career.  Farming, he explained, was not simply something Kennan managed to do in spite of his demanding job.  Instead, farming was central to his success as a statesman; his views on soil and his frequent use of what Prof. Gaddis referred to as 'horticultural metaphor' formed a significant part of Kennan's worldview, guiding the political philosophy that made him so prescient and effective.  I left that evening with a renewed sense of hope that I too might be able to so harmoniously marry my seemingly disparate interests.
I also left that evening with an appreciation for the role that ship travel played in Kennan's work.  Not only did he move regularly between his farm in the United States and his embassies in the Soviet Union, but he did so at the expense of long travel intervals aboard passenger ships.  How could there have been time for all of this?  Again—Gaddis explained, both in his book and in his living room—the ship journeys were not a hindrance to Kennan, but an asset.  It was during these weeks at sea, free from the exigencies of daily life, that Kennan did much of his best thinking and penned some of his most impactful ideas.  Indeed, as air travel became more ubiquitous at the end of his career, Kennan traveled increasingly by plane and complained of his inability to think or to concentrate – the world too loud, the journey too fast.
A few months later, I was given the opportunity to work for a year as a researcher based at the University of Ghana through the Fox International Fellowship Program.  Though I was excited for another chance to travel, and to contribute to an exciting project on climate resilience in the cocoa sector, I felt conflicted about the fellowship.  It seemed nonsensical to be working on a project designed to mitigate climate change while my own carbon footprint was so disproportionately massive.  In Ghana, I would be working directly with farmers—tasking them with adopting 'climate smart' agriculture techniques—and yet in taking just one round-trip flight to Ghana I would have produced more carbon emissions than the average Ghanaian produces in an entire year.
Thinking of Kennan, I decided to forego airplanes and instead I charted a six-week long journey which took me from New Haven to Accra on a series of trains and cargo ships.  Encouraged by Prof. Snyder—who in class always encouraged us to keep a library and read undistractedly—I collected some 30-odd books on the history of cocoa and of Ghana, among other subjects pertinent to my research, packed them in a suitcase, and brought them with me to sea.
The journey offered an unrivaled chance to deeply absorb these materials, and my time on the ship was extraordinarily productive.  I filled several notebooks with annotations and ideas, and typed out hundreds of pages of observations and reflections on a laptop that had no hope of connecting to Wi-Fi.  As a passenger aboard freighter ships (which, as it happened, were transporting cocoa beans), I got the chance to meet people working all along the supply chain, and to think about how farmers were just the beginning of the conversation on cocoa sustainability and equity.  Stopping at ports all along the route, in some instances I was able to go ashore and visit chocolate warehouses, factories, museums and artisanal shops, conducting interviews all along the way. Empowered by this knowledge, I arrived in the field with an enhanced understanding of where I was and what I could meaningfully contribute.  When I left Ghana, I felt confident that my time had been well spent.
Sitting at my desk in New Haven, in the early stages of writing a book on cocoa and swimming in sources found in another incomparable Yale resource—the Beinecke Rare Book and Manuscript Library—I find myself looking back on the journey.  I feel an overwhelming sense of awe at the transformative power of undivided time, and of respect for distance.   The never-sleep world of cheap flights and unlimited data plans can force an illusory binary between being a productive member of society and being 'unplugged'.  The idea of spending one, two, or several weeks simply getting somewhere may feel to many utterly impractical even, perhaps, impossible.  Instead, the mighty distance between places and the majesty of the sea stay masked behind the glow of a hundred bad movies playing simultaneously across the tiny blinking screens of another red-eye flight.
Yet the great minds of history seem to be those which have found within their busy, noisy, consequential worlds the space for deep reflection.  History teaches that it is important to have time to think clearly, and to understand that there is as much—if not more—wisdom in the space between things as within the things themselves.  As Kennan saw on his many journeys across the Atlantic, there is a sense of limitless possibility that arises when we experience first-hand the vastness of the world.  It is, I believe, precisely that kind of awareness that, met with quiet and focused minds, will prove indispensable as we face the monumental challenges of our time.   
In the aftermath of the COVID-19 pandemic, air travel will likely be more popular than ever as people, understandably, seek to reconnect with the world.  As for me—I'll stick to the sea.
---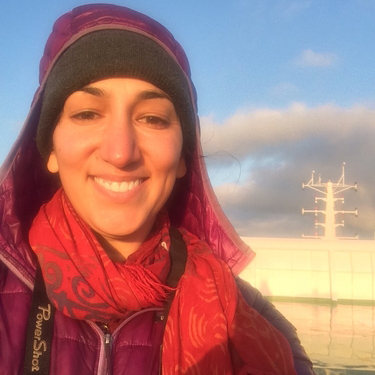 Emily Sigman
Emily Sigman is a 2019-20 Fox International Fellow. She is a National Science Foundation Graduate Research Fellow pursuing dual degrees at the Yale School of Forestry and the Jackson Institute for Global Affairs. Emily's research interests include food systems, inter-species relationships, and social-ecological systems and restoration. She shares her work widely in blogs, articles, and books, and through conference presentations and public lectures. Emily also regularly organizes interactive community events and knowledge-sharing workshops. She speaks five languages, and enjoys—among much else—gardening, foraging, swimming, hiking, dancing, crafting, and spending time with animals, including humans. Emily is an advocate for slow, low-carbon transportation and began her Fox International Fellowship by traveling from New Haven to Ghana entirely by commercial freighter ship and rail.