A Jackson grad student's research is exploring the opportunities for building a new global initiative tied to this growing sport.
On a recent day this spring, Veronica Baker found herself clinging to a jagged limestone rock face in the hills surrounding Ramallah, Palestine.
The first-year Jackson graduate student and rock climbing enthusiast was there for more than just an adventurous outing or an intense workout—she's building a new initiative that she hopes will have a global impact.
Baker's two-and-a-half-week expedition to the West Bank over spring break is part of an ongoing research project examining the global expansion of rock climbing and its potential for economic development. Sport climbing—which will be part of the Summer 2020 Olympic Games—has long been a popular, if niche, sport in the U.S. and Europe, but in recent years, it has become increasingly prevalent in Asia, Africa, Latin America and the Middle East.
Baker believes there is huge potential for climbing to have positive economic and social impacts on local communities near crags, particularly in rural areas where economic opportunities may be limited. Businesses such as restaurants, grocery stores and small inns can all benefit from climbing tourism dollars. "Climbing cliffs have become a new natural resource, much like a waterfall or a canyon, that communities have the opportunity to benefit from," she said.
At the same time, climbing can cause tension in communities. "If climbing areas are developed by international climbers without involving locals in the area, there can be an exclusionary element—a lack of agency," Baker said.
"Additionally, climbing can have a degrading effect on the environment if people aren't careful, and friction can develop with landowners and local authorities if they haven't been adequately consulted. These are all really important factors for climbers to be aware of, and we need to know more about how this is playing out around the world," she said.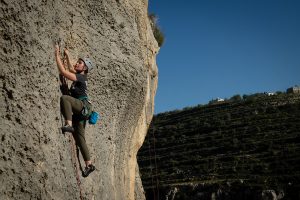 Palestine was the first in a series of case studies that Baker is planning. She believes that understanding how climbing is expanding around the world is an important first step to figuring out how to maximize its positive impact. In Palestine, she conducted hours of interviews with local and international climbers, plus businesses affected by climbing. The trip was supported by funding from the Jackson Institute.
Her research also included interviews with stakeholders in the outdoor industry, nonprofit groups that advocate for climbing access, sports federations, and environmental NGOs, which was part of a semester-long directed reading at Jackson. Baker hopes that building a global coalition between these groups can help elevate rock climbing to its true potential.
The project has been under the guidance of Jackson lecturer Nathaniel Raymond, a practitioner whose professional experience includes time as a humanitarian aid worker with Oxfam America, as director of the Campaign Against Torture at Physicians for Human Rights, and as founding director of the Signal Program on Human Security and Technology at the Harvard Humanitarian Initiative of the Harvard T.H. Chan School of Public Health. His research focuses on humanitarian response and technology affecting communities.
"On the surface, it appears to be a project about rock climbing, but in fact it's a classic ethnographic field study assessing the economic impact and cultural impact of an introduction of a new sport into communities on the margins of the activity. That's something that was right in my wheelhouse," said Raymond.
For Baker, the project feels like a natural progression of her past work and academic studies. Before coming to Jackson, Baker spent many years studying Arabic and working in the Middle East, including time in Jordan and Egypt. As an undergraduate, she conducted field research as a visiting scholar at a think tank in Tunisia, where she studied the role of civil society in the country's democratic transition. A Colorado native, Baker began climbing in 2015 with her dad, a long-time climber, and quickly became passionate about the sport.
Despite rock climbing's growing popularity around the globe, there is a relatively small body of scholarly research devoted to it. That appealed to Baker, who says she is "following where the research leads" and hopes to forge new scholarly territory. The support and mentorship she has received from Yale professors and practitioners at Jackson, the Yale School of Management, the Yale School of Forestry and Environmental Studies, and the University's Tsai Center for Innovative Thinking have been crucial.
"Climbers have an adventurous spirit."
—Veronica Baker
The challenges associated with conducting scholarly research in the Middle East—including multiple checkpoints, security concerns and historical tensions around land use—are also part of what makes studying in this region so interesting. "Climbers have an adventurous spirit," Baker explained. There's an excitement that comes from not knowing what you'll find, whether it's beyond the next cliff or during the next case study interview, she said.
Baker has her sights set on Latin America next. Jackson graduate students are required to pursue a summer research project or professional experience, which is supported by funding from the institute, and she hopes to do her next case studies there.
For Raymond, it's been exciting to observe and support Baker as the project has unfolded over the last nine months.
"The more she sticks with it, the more she is supported, the more it's becoming clear. As a teacher, the reason I get up in the morning is to watch that trajectory from 'maybe?' to 'this is really hard' to 'it was really hard, but I know what it is and it's worth it,' Raymond said. "To be able to climb that mountain together, is really the most satisfying thing I can think of."
Raymond says it's also a good example of what makes Jackson stand out. "The biggest thing is the 'go for it' attitude here. Let's try it, let's figure it out. I can't think of anything that better showcases the values and the skills we try to teach here at Jackson: entrepreneurship, interaction with people, undergirding fieldwork with robust quantitative and qualitative methods," he said. "The support for a master's student to go out and conduct this research, over time, is a rare thing in a global affairs program," Raymond added.
Looking ahead to her path after Jackson, Baker is open to many possibilities. This research project has helped her envision how she might channel her passion for climbing into a career.  "I'm excited about different career options that will give me the flexibility to be outdoors and do something I'm passionate about."
---