Ten Yale College students in the Global Health Studies Program recently traveled to Washington, D.C. to participate in a day-long program focused on providing the scholars with a better understanding of the global health funding and policy landscape, key agencies and actors, and developing relationships with individuals and organizations involved in global health policy and advocacy. 
The two-day trip was a partnership between the Global Health Studies Program and the Yale Institute for Global Health.
The group visited the Center for Global Development (CGD), a nonpartisan, nonprofit think tank that focuses on economic research for international development. At CGD, students had the opportunity to speak with Javier Guzman, the Director of Global Health Policy; Julia Kaufman, Global Health Policy Analyst; and Janeen Keller, Deputy Director of the Global Health Policy Program.
 Students also went to the Center for Strategic and International Studies (CSIS), where they spoke with Natasha Bilimoria, former Deputy Assistant Administrator in the Bureau of Global Health at the U.S. Agency for International Development (USAID), learning about her career path through the U.S. government's executive branch and multilateral global health organizations before her work with USAID. She demonstrated how aligning an organization's priorities with government health initiatives can establish an organization as a unique and necessary partner to receive funding.
This session was followed by a joint panel featuring representatives from CSIS and the Kaiser Family Foundation (KFF). CSIS executives J. Stephen Morrison (YC '77) and Katherine Bliss discussed the history of the nonpartisan think tank that grew from the Georgetown campus to its current role as a vital center for convening discussions amongst policymakers and conducting research on a variety of topics including international security, energy and climate, and Asia-focused programs. Supplementing this discussion were Jennifer Kates and Dr. Josh Michaud, who communicated KFF's role in providing factual, nonpartisan information to the public by unpacking complicated policy issues and data. Scholars learned the value of educating the media on health topics to make them reliable distributors of information.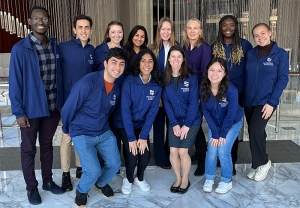 Scholars also engaged in a networking session with CSIS research associates and fellows to discuss their career trajectories and the skills they considered most critical for a career in policy research. Representatives from The ONE Campaign (ONE) joined the group in the afternoon. ONE is a DC-based advocacy organization campaigning to end extreme poverty and preventable disease by 2030. ONE described the advocacy tactics they use to lobby for positive policy change, from harnessing popular culture to addressing legislators directly.
Scholars left the trip with a better understanding of the global health policy landscape, the perspectives of key stakeholders, and the challenges facing the global health field over the next generation. Building on the success of the trip, future ideas to expand the program include an annual advocacy trip to Washington, D.C., or other global health policy hubs, participation in CSIS and KFF events, and more opportunities to engage with the global health community.
---