On Monday, August 29, the Jackson School of Global Affairs formally welcomed its new graduate students to Yale during the school's inaugural Matriculation Ceremony in Sprague Memorial Hall. 
Jackson's incoming graduate student cohort includes 35 in its two-year Master in Public Policy in Global Affairs program and eight students in its one-year Master of Advanced Studies in Global Affairs program. 
The Jackson School, formerly known as the Jackson Institute, officially opened its doors on July 1, 2022. It is Yale's first new professional school in more than four decades. 
 "I think of this as a once-in-a-generation opportunity to strengthen our role in preparing future leaders who will be informed by facts and analysis. I am looking forward to witnessing the difference the Jackson School will make at a time when the world needs expertise more than ever," said Yale President Peter Salovey in his opening remarks. 
Referencing Yale's motto, Lux et Veritas (Light and Truth), Salovey emphasized the pursuit of truth as a response to the growing threat posed by misinformation. 
"Falsehood will fly on the wings of the wind, and carry its tales to every corner of the earth; while truth lags behind; her steps, though sure, are slow and solemn," said Salovey, quoting 18th-century British clergyman Thomas Francklin. 
Salovey called on students to engage with ideas that challenge their assumptions and to strengthen open discourse, which he called "a hallmark of this university."
Jim Levinsohn, dean of the Jackson School and Charles W. Goodyear Professor of Global Affairs, reflected on the rich diversity of the incoming class; its students have lived or worked in nearly 30 countries and represent a wide range of careers, including activists, data scientists, soldiers and artists.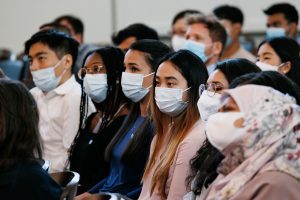 Levinsohn urged students to take full advantage of everything Yale has to offer and to build relationships with their classmates. 
"My hope is that the relationships you establish at Jackson will help you better understand your colleagues in the future. That's one of the dividends that Jackson will pay in years to come," he said.
The ceremony featured musical performances by Alex Lew YSM MM '22, MMA '23 and Tai Murray, a faculty member in the Yale School of Music. 
Sharon M. K. Kugler, university chaplain, delivered the benediction. Referencing the poem, "Today is a New Day," by U.S. Poet Laureate Juan Felipe Herrera, Kugler spoke about the significance of the new Jackson School for Yale and beyond. 
"What Yale was yesterday, is not what it is today, or will be tomorrow because of you, your questions will emerge then bloom and your fresh intellect will carry us all to new discovery, to a new day.  With this emerging school you are called to uncover dreams that our beautiful but broken world longs for, to uncover possibility that we cannot even imagine right now in this moment," Kugler said. 
The ceremony was followed by a celebratory luncheon at Horchow Hall. 
---