A new year-long course at the Jackson Institute aims to take a holistic view of America's longest war.
Led by Anne Patterson—a Jackson Senior Fellow and retired U.S. ambassador whose four-decade State Department career included a stint as ambassador to Pakistan—the graduate-level capstone course will analyze the U.S. decision-making process in Afghanistan over the last 20 years. Students will engage with military, civilian, and NGO experts as well as senior leaders involved in Afghanistan.
The goal of the course, GLBL 638, is to identify major decision points, what went right, and what went wrong. Proceeding chronologically, students will analyze issues shaping America's choices; for example, narcotics production, education of women and girls, the role of Pakistan, and the influence of America's allies and the United Nations.
The idea for the course came from Yale undergraduate James Hatch, a former Navy SEAL who was badly wounded in combat in Afghanistan. Hatch, who is studying at Yale as part of the Eli Whitney Students Program for non-traditional students, has spoken out publicly about his service and personal struggles following his discharge.
During a July 2021 appearance on Anderson Cooper's show on CNN, Hatch suggested that a comprehensive "after-action report" on Afghanistan was needed, one that included perspectives from all involved parties, and that the Yale Jackson Institute had the unique convening power and the resources to do it well.
Jackson's faculty director, Jim Levinsohn, was immediately on board.
"It seemed to me that Jackson was exactly the right place to run with this idea. Jackson is about tackling the global challenges of the day and Afghanistan certainly qualifies. Jimmy's idea is a great one and we're all about making good ideas happen," Levinsohn said.
"Many of our students and Senior Fellows have served and/or worked in Afghanistan, so I knew there'd be interest. And when Amb. Patterson agreed to lead the course, that sealed the deal," he added.
Andrew Doris, a second-year Jackson graduate students, is among the students enrolled in the course.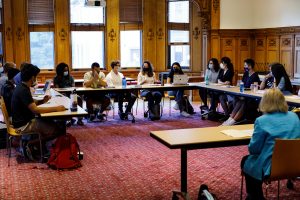 "I wanted to take the course because the saga in Afghanistan has come to define my generation of military service, and what lessons we take from it will likely dominate my field of interest for years to come," Doris explained.
"I never deployed to Afghanistan myself, but I served alongside many who did. By August's end, the topic had consumed me. I was anguished, angry, and wondering how the decent people I lived, served, and studied with could have fouled this up so badly," he said.
"I hope this course can shed some light on that—and after the first session, I have little doubt it will. The instructor, guest speakers, and even classmates are all so impressive, and come from a wide enough range of backgrounds to leave no stone unturned in search of answers and takeaways. I'm extremely lucky to find myself in such close proximity to the people who made or witnessed these decisions firsthand, and owe the Jackson Institute much gratitude for the opportunity," Doris said.
Eunjung Irene Oh, a fellow Jackson graduate student, is also enrolled in the course.
"Seeing what's happened in Afghanistan is really shocking," Oh said. "I wanted to draw lessons from the Afghanistan case," she said, and consider the potential impact of large U.S. troop withdrawals elsewhere in the world, including South Korea. Before coming to Jackson, Oh served in the Republic of Korea military and the Ministry of National Defense.
Having the opportunity to learn from Amb. Patterson was also a draw, said Oh, who is interested in a career in foreign policy and national security.
Students in the course will produce a comprehensive report in the spring of 2022.
---