Health justice activists Vuyiseka Dubula and Jamila Headley gave a public talk on April 18, 2019.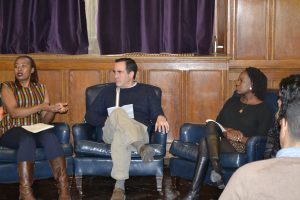 The Yale Global Health Studies Program and Yale Global Health Justice Partnership hosted Vuyiseka Dubula, Director of the Africa Centre for HIV/AIDS Management (University of Stellenbosch), Former Treatment Action Campaign Secretary-General, and Jamila Headley, Managing Director of the Health Global Access Project, for a conversation on "The Future of Global Health." Watch a recording of the talk
The start of the 21st century saw a surge of interest in global health. Significant new funding was devoted to address global health challenges, and in particular epidemic diseases like AIDS, tuberculosis and malaria. This "new" age of global health was triggered in part by the catalytic work of activists around the world, and particularly HIV/AIDS treatment activists, who successfully campaigned for more access to these new life-saving drugs. When the global economic crisis hit in 2008, funding for these epidemic diseases began to plateau and even decline. The contemporary resurgence of populism, nationalism, and anti-immigrant sentiment present new challenges for activists and transnational models of health response. But the work of global health is far from done. What is the future of global health in 2019?
Dubala and Headley joined Gregg Gonsalves, co-director of the Global Health Justice Partnership, in discussing changes in HIV/AIDS funding and the impact of activists who have campaigned for treatments. The panel specifically discussed how we can apply the progress we have made in treating AIDS to greater healthcare issues around the globe. Both Dubala and Headley agreed that public health professionals and schools need to approach correcting healthcare infrastructure from a global economic systems perspective, rather than trying to treat one disease at a time. The panel called upon global health leaders to make structural improvements and increased financial investment in primary health systems around the world.
Co-sponsors included: Yale School of Public Health, Yale Institute for Global Health, Yale MacMillan Center Council on African Studies, Yale Equity Research and Innovation Center, and Yale Solomon Center for Health Law & Policy.