Dr. Bernice Dahn gave a public talk April 10, 2019.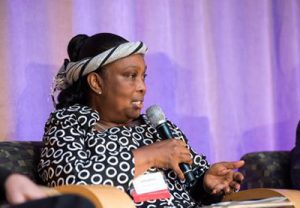 The Yale Global Health Studies Program and the Yale Global Health Justice Partnership presented the lecture, "The Unchecked Power of the Purse: How Global Health Financing Sustains Inequity," on April 10, 2019.
Dr. Bernice Dahn visited Yale as part of the Advocates-in-Residence program.
Dr. Dahn has over 20 years of experience as a public health physician, policy-maker, administrator, and educator. During her time as Minister of Health of the Republic of Liberia (2015-2018) and eight-year tenure as Chief Medical Officer / Deputy Minister for Health Services, Dr. Dahn led the re-establishment of the Ministry of Health and the rebuilding of Liberia's post-conflict health care delivery system. She also coordinated the country's national response to the 2014-15 Ebola epidemic and led efforts to restore routine service delivery in the wake of the outbreak.
In this talk, Dr. Dahn drew from these experiences to discuss the politics and inequities of global health financing, challenges in managing donor funds effectively, and her longtime advocacy for mutual transparency and accountability in aid and development relationships.
Co-sponsors included: Yale School of Public Health; the Yale Equity Research and Innovation Center; and the Yale School of Medicine Department of Medicine Office of Global Health.