The Schmidt Program was made possible by a $15.3 million gift.
The Jackson Institute for Global Affairs announced today that it will establish the Schmidt Program on Artificial Intelligence, Emerging Technologies, and National Power.  A signature new initiative of International Security Studies (ISS), the Schmidt Program will examine how advances in artificial intelligence (AI) have the potential to alter the fundamental building blocks of world order.
The Schmidt Program was made possible by a $15.3 million gift from the Schwab Charitable Fund through the generosity of Eric and Wendy Schmidt, and by recommendation of Schmidt Futures.
The Schmidt Program will foster research and teaching at Jackson that spans the disciplines of computer science, data science, economics, engineering, history, international relations, law, philosophy, physics, and political science.  This multidisciplinary program will bring prominent technologists to campus as Schmidt Program Senior Fellows; offer postdoctoral fellowships to Schmidt Visiting Scholars; support collaborative research and student internships; and develop a robust offering of cyber- and AI-focused lectures, symposia, workshops, and conferences to further the dialogue around emerging technologies and security studies.
"The Schmidt Program will be an outstanding addition to the Jackson Institute for Global Affairs," said Jim Levinsohn, director of the Jackson Institute. "It is essential that our aspiring student leaders understand the risks and benefits associated with artificial intelligence and emerging technologies. We are so grateful to Eric and Wendy Schmidt for their inspirational support, and to the visionary leadership of Schmidt Futures and its Chief Executive Officer Eric Braverman, who has also taught classes at Yale since 2012," he said.
An accomplished technologist, entrepreneur, and philanthropist, Dr. Eric Schmidt served as Google's Chief Executive Officer and Chairman from 2001 to 2011, Executive Chairman from 2011 to 2018, and most recently as Technical Advisor from 2018 to 2020.  Under Dr. Schmidt's leadership, Google dramatically scaled its infrastructure, transforming from a Silicon Valley startup into a global leader in technology.  Dr. Schmidt is the co-author of four acclaimed books, including most recently, The Age of AI: And Our Human Future.  In 2017, he and Wendy Schmidt co-founded Schmidt Futures, a philanthropic initiative that bets early on exceptional people making the world better by solving hard problems in science and society.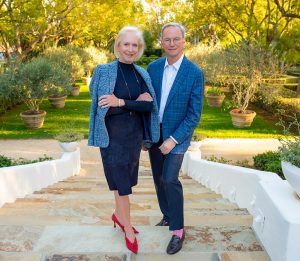 "AI is too powerful and too important for us to ignore the fundamental questions that it poses for our society.  It is imperative that our global leaders, our universities, and society as a whole begin to find ways to partner with and better understand AI's potential if we are to shape its impact on the course of human history," said Eric Schmidt.
"Establishing the Schmidt Program at Yale is a first step towards engaging in a multidisciplinary dialogue that examines the complexities of AI and begins to determine what society's rules and limitations will be for these powerful systems and tools," he said.
Professor Arne Westad, Director of International Security Studies at Yale, underscored the importance of the innovative new program.
"This is an extraordinary opportunity to foster interdisciplinary collaboration on artificial intelligence at Jackson and across the university. We are especially eager to explore the historical parallels between the development of AI and nuclear weapons, and the relationship among technology, strategy, and power in the digital age," Westad observed.
The Schmidt Program will place teaching undergraduate, graduate, and professional school students at the core of its mission.  The program will encourage faculty to develop new classes available to Jackson students, as well as administer its own flagship course on "Artificial Intelligence, Emerging Technologies, and National Power."  The new yearlong class, offered by ISS Executive Director Ted Wittenstein and team-taught by faculty from across the university, will help bridge the divide among global affairs, law, social science, and STEM students at Yale who are studying AI from different vantage points.
"Advances in artificial intelligence offer tremendous opportunities for economic growth and societal well-being," noted Wittenstein, "but the potential threats also are extraordinary: autonomous weaponry, sophisticated disinformation campaigns, and geopolitical instability as nations race to deploy these unpredictable technologies.  I am thrilled to partner with Jackson and other Yale colleagues to equip our students with the requisite technical fluency to identify and respond to emerging threats," he said.
The Schmidt Program also will launch a new "AI Symposium" to bring visiting experts to campus for public talks and classroom visits beginning in spring 2022, enriching the Jackson and broader Yale community.  In addition, the program will co-sponsor this year's Yale Cyber Leadership Forum, which will focus on the national security implications of AI research and development.  A partnership between the Jackson Institute and Yale Law School's Center for Global Legal Challenges, the Forum is directed by Professor Oona Hathaway and brings together an impressive array of attorneys, entrepreneurs, policymakers, and academics to tackle the most pressing cyber challenges.
Jackson alumna Beth Goldberg (M.A., M.B.A. '18) works as a Research Manager at Google's incubator, Jigsaw, where she focuses on countering disinformation online. "The interdisciplinary nature of this initiative will expose students to both social science and technical perspectives on emerging threats," said Goldberg. "This sets graduates up for success as policy careers increasingly demand expertise in the ethical, historical, and technical dimensions of emerging technologies."
Fellow Jackson alumna Andi Peng (YC '18) agrees. "As someone that has spent a majority of my education and career bridging the gap between technology and policy, I am delighted to learn that Jackson is pioneering this first program of its kind," said Peng, who double majored in Global Affairs and Cognitive Science at Yale and is currently pursuing a Ph.D. at MIT. She previously worked at Microsoft Research, the White House Office of Science and Technology Policy, and Facebook AI Research.
"Cutting edge AI technologies already have entered the forefront of our global political ethos.  Educating innovators in this space is so important as we move forward into the modern era," Peng added.
Learn more about the Schmidt Program and its initial areas of research emphasis.
International Security Studies, a research hub dedicated to the study of international history, grand strategy, and global security, joined the Jackson Institute on October 1, 2021. The Yale Jackson School of Global Affairs, slated to open in fall 2022, will be the first professional school created at Yale in more than 40 years.
---