The Jackson community is devastated by the recent passing of Nuno Monteiro, a beloved and respected colleague, teacher and friend. 
Monteiro, who received his B.A. from the University of Minho in 1997 and his doctorate in Political Science from the University of Chicago in 2009, most recently taught "Approaches to International Security," one of the core courses in the global affairs major, and an international relations workshop. He previously served as director of the International Security Studies Program at Yale.
An expert in international relations theory and security studies who was highly regarded by his colleagues and students, Nuno was also the author of several books.
Plans are underway for a virtual memorial event in the Yale community. Please share your thoughts and memories of Nuno.
---
I took Approaches to International Security last semester with Professor Monteiro. COVID-19 made teaching the class very difficult for him–he had two kids at home, was in a different time zone than most of us students, and he had to teach over 60 students learning remotely all over the world. Despite all of these barriers, he taught with so much passion, care, and kindness for the material and for every single student. He was constantly taking feedback and incorporating it to make sure that we learned as best as we could in this tough environment and found the experience in his class worthwhile. I am not big into international security as my interest lies more in the international development side, but Professor Monteiro captivated my interest immediately and made the class (which I was dreading and pushed off until my senior fall) one of the most enriching and eye-opening academic experiences I had at Yale. Professor will be missed dearly by so many students, and I am especially grateful from the growth I gained through his course.
Yara El-Khatib, BA Global Affairs '21
Professor Monteiro was such a dedicated professor in my GLBL 275: Approaches to International Security course. He was all the way in Portugal last semester, and still decided to hold synchronous discussion-style class meetings to ensure students remained engaged with the material, even if that meant teaching students at 9:00pm in his time zone. He was so passionate about security studies, and was always so kind to students. I will deeply cherish the memories I have from GLBL 275.
Stefy Grau, Yale College '22
Professor Monteiro was a loving professor who always treated his students with the utmost kindness and respect. In his class, he would interact with us as though we were members of his own field. To me, this showed his profound humility and his deep commitment to his students' confidence and wellbeing, making him not only an incredible teacher, but an incredible human being. He will be deeply, deeply missed.
Gabriel Klapholz, Yale College, BR '22
I was a Teaching Fellow for Nuno in the fall of 2017 for his introduction to international security class. I really enjoyed working for him. Being a T.F. can sometimes be just a way to make money in grad school, but working under him was one of my highlights of the program and a valuable experience in itself.
He was kind, caring, very smart, and had a good sense of humor. Being a tenured professor at Yale is a big accomplishment, and he was very down-to-earth about that and accessible. The class was an intro class, but even as a grad student with a poli sci undergrad degree, I learned a lot from his lectures. He has left us much too soon. My deepest condolences to his wife and sons.
Luke Johnson, MA in Global Affairs '18
I learned more in his class at Yale than i did in any other class at Yale. He was an incredible professor and person. My favorite memory of him is of talking with him in office hours. We talked about politics, morals and religion. He pushed me to challenge my views and to see things in a new light. He also gave much needed advice for life and career in general. Nuno genuinely cared about his students and his work. He will be sorely missed, and I will always remember him.
Megan Sardis, BA in Global Affairs '21
My interaction with Professor Nuno Monteiro was rather brief and short. However, I can't help but write in memory of this wonderful professor who took an extra mile to help Yale students thrive in their academic endeavor.
Just a few weeks before his death, I reached out to Professor Monteiro if I could audit his international security course to be taught by him during the summer. Despite the fact that we had never met before, he was very open to having me as an auditing student and even gave me advice to contact Yale Summer School. From several email exchanges with him, I recognized how kind-hearted and genuine he was in helping Yale students succeed in their academic career. Anyone would recognize his passion to mentor students from his personal website where he offered down-to-earth advice to aspiring IR experts.
The passing of Professor Nuno Monteiro is truly tragic. I wholeheartedly pray for peace and comfort for his family. Rest in peace, Professor Monteiro.
Irene Eunjung Oh, MA in Global Affairs '22
Professor Monteiro was a guiding light during my time at Yale. His intellect, thoughtfulness in teaching, and mentorship were such gifts.
Olivia Shoemaker, BA in Global Affairs '21
When I had to declare a medical withdrawal from Yale College, Professor Monteiro was beyond accommodating. He even brought some humor and relief in our email threads when he realized all the stress I was going through. Though I only knew him for a short time, I knew that he had an understanding and kind heart; may Professor Nuno Monteiro rest in peace.
Anna Aller, BA in Global Affairs '22
Nuno was an amazing professor and an even better person, very thoughtful and understanding, able to help and understand his students when we were going through hard times. It comes as great sadness to all of us former students of his. I will remember what he taught me with great thankfulness, not only in the area of international relations but more importantly in the humanity of his actions.
Ana Borja, Yale College '22
Professor Nuno Monteiro is one of the most impressive instructors I have ever had, one who ever since I first had the chance to listen to my first semester during Gateway to Global Affairs has made me impatiently waiting until I get the chance to take Approaches to International Security with him last semester. Professor Monteiro is incredibly inspiring and charismatic, who cares so deeply about his students and the quality of each lecture he delivers. It is sad that most of my time spent with Professor is through the virtual Zoom window, because I knew how much he cared about his students. I wish I had had the chance to engage with him more and to learn from him more. Professor, I hope you rest in peace.
Linh Le, Yale College '22
Nuno was one of the finest – and most decent – instructors I have ever encountered. He had a brilliant mind, well-ordered and systematic in his thought. I invariably left every class or office hours discussion with pages full of notes and an entirely new way of thinking about an issue. His personal integrity and his commitment to the pursuit of truth were manifest in all his writing and teaching. He was incisive and refreshingly candid – but never harsh – in his critiques of prominent IR theories, the foibles of academia, and students' work alike. He was also exceptionally funny, with a dry wit leavened by the occasional, self-deprecating corny joke. (His career talk, "Why you don't want to get a PhD," was a masterclass in this regard.)
Most of all, I deeply respected Nuno for his humility and selflessness. His dedication to his students shone through in every interaction. He was uniquely kind and generous with his time, allowing me to pester him repeatedly in office hours with my half-baked project ideas and even inviting me to lunch in the college dining hall – one of my favorite memories of my time at Yale. I am immensely grateful for having had the opportunity to learn from Nuno, and I will cherish his memory always.
Andrew Reeves, MA in Global Affairs '16
Professor Monteiro is one of the best professors I had at Yale. He was a witty scholar and cogent lecturer whose inquisitiveness inspired all those around him, students and academics alike. Not only did I learn a lot from his "Approaches to International Security" class, but I was also encouraged by his open willingness to engage in constructive dialogue with his students in discussion sections. May he rest in peace.
Min Byung Chae, Yale College '20
I am not a Yale student, but I was one of numerous students taught, inspired, and cared by Prof. Monteiro. I met Prof. Monteiro in spring 2019, when I was taking an online program with him; after that, I worked as his TA in that online program during the first half of 2020. So, I was just an informal student of him, and we even never met in person. But Prof. Monteiro never treated me differently. He not only taught me IR knowledge, but also how to make a summary, and how to write a paper. Almost all of my academic skills (if I do have some academic skills) were taught by him. When I studied with him, he always assigned additional great works for me to read; as a result, when I came to UChicago, many of class readings had already been read by me. Furthermore, whenever I entered a new stage, he always introduced me to professors there, asking them to look after me. Whenever I encountered difficulties or had doubt on myself, I would shoot an email to Prof. Monteiro and a few days later, I would receive a response in detail. He always cared about any tiny progress I made. I still remember at the end of first quarter of my study at UChicago, I received an email from Prof. Monteiro, asking me how was my study going. Since May 5, I forever lost such a person who would send me such an email! Therefore, he had long been more than a professor for me; rather, he was a great mentor and a beloved friend.
Not only me, any other students he taught in that online program that I asked all told a similar story: how he cared about each of them, how he helped them plan their future education or career, and how his humor and warming smile encouraged them. We are all indebted to him so much, which we can never pay back. In the acknowledgements of his book co-written with Prof. Debs, he said he was so indebted to his mentor, Prof. Mearsheimer, that he knew he could never pay it back, so he hoped he could pay it forward. He achieved his promise, now it is time for us to pass on the baton.
Gilbert Lai, University of Chicago
Nuno was director of the International Security Studies Program the year I was a predoctoral fellow. I had just moved back to the United States from Beirut, and was incredibly nervous about adjusting to life in New Haven. He and Audrey hosted a welcome soiree for our class of fellows in late August, and I still remember it as one of the loveliest nights of my entire fellowship. Nuno was a brilliant scholar and a wonderful mentor, but he was also a consummate host, which is, the real measure of a person. Attentive, interesting, kind, generous – we were all charmed from the first. We also drank him and Audrey out of house and home, and I have a hazy memory of the evening finishing when we'd drained their last bottle of expensive—and exquisite—port. It was a wonderful night, marking the start of a year in which he proved himself to be just what he had been for us that evening: unstinting in his kindness, humor, and grace.
Nuno was also among the first people to read the initial, dense scribblings of what would become my dissertation. He joked that it felt like reading "War and Peace," which I took as the deepest compliment–though I'm not sure he meant it to be. Still, I have to think he'd be amused that the consummate realist political scientist had been so helpful to a constructivist historian's early work.
In our last meeting, Nuno and I lunched at one of Yale's residential colleges. He had recently resigned from his post as ISS director, and I, nearing the end of my fellowship, was experiencing some agony about whether or not to pursue a career in academia. Although no longer formally in the position of my mentor, he was happy to meet and spend a few hours talking candidly about how one navigates the the hard choices about what, precisely, to do with one's life. It was in this conversation I saw for the first time the flinty ruthlessness underlying his warm personality — ruthlessness not directed at anything trivial or material, but rather ruthlessness in preserving himself and his time for the things that truly mattered to him: Audrey, Sebastian, and Ava. Nuno had a brilliant career, and was an exceptional scholar, but those laurels meant little to him in comparison. His family, and the lives of those he touched along the way, are his true legacy.
Emily Whalen, ISS Pre-Doctoral Fellow, 2018-2019
I met Nuno through Stathis Kalyvas in New Haven around 2011. We became friends during the summer of 2014, when we both taught in a summer school at Olympia and we spent two weeks in this beautiful village in Greece. Audrey, his wife, was there too, and we all had a wonderful time. I remember that Nuno and I had some discussions about Spanish and Portuguese politics, among many other things. I also recall that we celebrated our birthday together, since they were a few days apart.
During the summer school, Dimitris Keridis interviewed Nuno. For those who would like to watch it, the interview is available here: https://vimeo.com/106539562
My thoughts are with Audrey, their beautiful kids, the rest of his family, and his friends. Rest in peace, Nuno. Descanse em paz.
Laia Balcells, 2010 PhD
With his piercing intellect and his bright smile, Nuno was a light that brightened the world around him. Our lives are all that much dimmer without him. He left us far too soon. My thoughts are with his family and all those mourning his tragic passing.
Nicholas Lotito, Jackson faculty
Nuno was kind and generous. He was smart and had a good sense of humor. He was open to new ideas. He was warm. We are loosing a brilliant scholar and a great human being. My thoughts are with Nuno's family and I join our community in celebrating his life.
Ana Arjona, PhD 2012
A wonderful moment from a supper in February 2020: It was a group of Yale students and scholars and a guest from Japan, and everyone at the table turned out to be familiar with Japanese woodblock prints. What proceeded was a happy few minutes in which we were transported to a museum: Nuno would describe his favorite Hasui Kawase prints, and everyone would see it in their mind's eye, commenting on it and smiling in appreciation. Kawase woodblock prints will always remind me of Nuno, and how he brought worlds together with wit and cheer.
Hikaru Yamagishi, graduate student ('22), Department of Political Science
I met Nuno in 2002, during his first week as a graduate student at the University of Chicago, where I was finishing my Ph.D. We reconnected in 2009 when he joined the Political Science Department faculty at Yale, where I had been teaching for two years already. We eventually became close friends and co-authors. The way this happened was instructive about who Nuno was as a scholar. I read a draft of his article "Unrest Assured," which later appeared in International Security, and I gave him very tough comments on the paper, along the lines of "the theory in your paper is indeterminate and consistent with any state of the world." Rather than get angry, as most scholars would, Nuno met with me a few weeks later, accepted that my critique had been warranted, and explained carefully how he planned to revise the paper to address it. A few weeks after that, he invited me to lunch and proposed that we find some projects to work on together. Nuno made it clear that he wanted to work with me because I had been tough on him, not in spite of it. Eventually, we published two articles articles together (one with a third co-author), one of which I regard as the best work of my career. We had a great time along the way, laughing as much as we argued (which was a lot). As many people have said in different ways, Nuno was brilliant, generous, and thoughtful. He was also hilarious and great fun to be around. He created a sense of energy and possibility that was infectious. Yale lost someone truly special last week.
Matthew Adam Kocher, Yale Lecturer (2007-2017)
I will always remember Nuno for the joy and energy he brought to conversations in and out of the classroom. Our conversations ranged from religion, family, and fatherhood to nuclear deterrence, COVID, and military strategy. And often they combined elements of each, debating whether and how useful a deterrence framework is in the raising of young children. Nuno managed to shape both my intellectual journey through grad school and my journey into fatherhood. He brought ideas to life, tacking big and difficult questions in a way that I wanted to emulate. He also gave some the best advice I could receive as a new father. Nuno helped me find my footing at a pivotal time in my life and for that I will always been deeply grateful.
Nat McLaughlin, MA/MBA in Global Affairs '21
If you visited Nuno's office, his desk always featured a stack of new books, some of which had to be shifted to the floor ("I need to get a bigger office" he would joke). When it came to feedback, he'd make at most a few notes with a pointy rollerball, but the feedback was always profound, and big-hearted. He liked using arrows to explain or illustrate a point. While he advised me during Research & Writing, his office was at the Jackson Institute; after office hours we'd walk down the length of Hillhouse together back to Rosenkranz, during which he liked to talk about politics, graduate student life, and his own life. Once in a state of mid-semester absent mindedness I left my field notes in his office after a meeting with him. He walked all the way to Rosenkranz and came up to the carrell to find me and return them. He ended each meeting invariably with "Keep pushing, don't get overwhelmed. Cheers!" He was devoted to his family, and frequently chatted about his wife and children, as well as his elderly mother in Portugal. When the pandemic struck, he wrote to his advisees to check in with them, after first visiting Portugal to help his mother prepare for the lockdown. In a characteristically cheerful email to us he wrote "I am pleased to report that she now has enough tuna cans to survive the zombie apocalypse even after throwing a few spare ones at said zombies". He checked in regularly until early this year, when his emails became less frequent. To mark the New Year I sent him a postcard from Pakistan. I didn't realize he had returned to Europe and probably never received it. His last email, two weeks ago on April 20, ended on a note of positivity and reassurance that I will always associate with his memory. It's going to be incredibly hard to imagine Yale, or research on the dissertation, without his kindness, humor, generous but penetrating feedback, larger-than-life presence, and perhaps most importantly, insistence that life is too short to be taken too seriously.
Fahd Humayun, PhD candidate, Department of Political Science
Nuno was an incredible mentor to have, especially as a dissertation advisor. In a discipline where it seems more and more rare that scholars ask big questions, he was an exception. He had such an alive mind and used it to shed light on the thorniest issues in International Relations and political science more broadly. He pushed me to do the same. I will always remember over the course of my second year going into his office with grand ideas for how to explain the benefits of American military preponderance. During our visits, most of the ideas I tossed out were bad, but Nuno was perceptive in taking the good ones and refining them into a workable research question, theory, and research design. That became the basis of my dissertation. Without that belief in the merit of the big ideas I had rather than dismissing them, he helped me to love doing political science research. His loss is irreplaceable to anyone he has mentored. He will be sorely missed.
Tyler Bowen, PhD candidate, GRD '21
Perhaps my favorite "academic" experience at Yale was an independent study I did with Nuno my senior year, the fall of 2011. I had learned the year prior as a student in his Military Power seminar that Nuno loved war films. I did as well, so in the fall of senior year I went out on a limb and proposed an independent study project that involved each of us watching one war-related movie each week, me writing a short review, and then us meeting for lunch to discuss. I never thought it would get approved by the department, but it did, and it was such a wonderful experience. I appreciated that Nuno took the reviews I wrote seriously, and the end of term paper I wrote ended up being one of my favorite.>
Nuno was brilliant, thoughtful, and kind. Conversations with him were deeply thought-provoking and always funny. I'm so sorry that more students won't have the great pleasure of learning from him. He'll be sorely missed.
Jeff Kaiser, Yale College '12
I met Nuno in the spring of 2019, when we were both teaching at YaleNUS in Singapore. Nuno, with his deep knowledge of international relations, was very much in demand among YaleNUS faculty and students. It was, hence, a real privilege that I had the good fortune to spend several extremely pleasant evenings with him alone. We sat in a small outside restaurant near the place where we lived, eating traditional street food, drinking Tiger Beer, and chatting away. Nuno was intelligent, funny, cosmopolitan, and genuinely interested in all sorts of things, from politics to gossip to the more arcane and esoteric aspects of academic inquiry. Once back in New Haven, we had plans to indulge in the pan-European pastime of watching some Champions League games together, but then Covid struck and meeting up became impossible. I was shocked and saddened when I heard that Nuno had passed away. My thoughts are with his family.
Eckart Frahm, Professor of Near Eastern Languages and Civilizations
When I was a first year, Nuno opened his doors and welcomed me to his research project, as he did with many other freshmen. Somehow he always found the time to talk to us about his work, and to take seriously our views on his research concerning counterinsurgency and an 18th century German dude's theories On War. He believed in us as scholars, challenged us, and gave us boundless room to thrive.
During Yale's rare, interstitial moments of free time, we talked about everything from Hong Kong politics to my zoology interests, and no conversation went by without laughing at something totally out of left field. His humor matched his scholarship, something every global major has had the privilege to see.
Every year since I started college, Nuno was a stalwart advisor. Every single internship, fellowship, and master's effort I made was accompanied by his guidance and advocacy. Even now I can't comprehend my journey to law school without his willingness to champion my admission at every stride – this despite his deep skepticism towards international institutions and law.
Unapologetically realist and unimpeachably witty, international relations has lost a peerless scholar, Yale a well-loved professor, and I a mentor who never stopped helping me aspire beyond my reach. Rest in peace.
Ariq Hatibie, Yale College '20
I remember Nuno as a charming, joyous, insightful man. I will miss his scholarship, and more importantly, his good humor as a person.
Jeff Colgan
I miss Nuno's PRESENCE!
His gregarious, big heart, generous spirit self!
Let's all celebrate his life!
A life that made a positive optimistic difference for all who had the privilege of experiencing his PRESENCE!
LOVE ALWAYS PREVAILS!
Sam Hayek, Fellow, Yale Morse College
The Portuguese
For Nuno
I heard tonight
One hour ago
That one man passed,
Nuno Monteiro.
The book of names
He now is in,
All the names, without, within
His nation, brethren.
If style is character—
What and how we wear,
The suit we make our song—
He was, this man, a tailor.
The instep of a shoe,
the waist—its arch!—
was no walk in his park
but conversation through.
The irony, he would
Have said—when having
Been given a golden watch
The morning of—smiling.
We looked down to tell
Time but now look up
To him, his theory
Of arms and human touch.
In silence time stops—
And like the wide river
Across which he rows—
Its arrow without quiver.
(May 2021)
Robert Dreesen, Cambridge University Press
Nuno's kindness and mentoring helped me throughout my academic and professional career even though I was never one of his students.
I was an external research assistant to Nuno from 2011-2013, after I originally sent an email to him out of the blue, asking if I could help on any projects he was working on. He accepted, even though I was a student at a different university. After working for him for only a month, he offered to pay me for the literature reviews I was working on, even though I never asked to be paid in what was essentially just an internship. After several years, I eventually used this money to buy my now-wife an engagement ring.
When I finished undergrad, Nuno helped me with my grad school applications and wrote a letter that led to a scholarship that allowed me to get my M.A. without any debt. I then continued to work for Nuno during and after grad school, which was a critical bridge while I applied for full-time jobs.
Nuno treated me like I was one of his students even though I didn't attend Yale and was only able to meet him in person once. I couldn't be more thankful for his mentorship and support.
Chad Peltier, Former research assistant
Nuno was a brilliant mind with a sharp wit and someone I learned an immense amount from. My heart goes out to Audrey and the rest of the family. I am so sorry for your loss.
Rheanne, IR MA
Nuno had a very special way of communicating with his students. I was a student of his during graduate studies at Jackson in 2015. I will never forget the thoughtful comments he would leave me on memos and essays. Still to this day I remember how incredibly proud he made me feel about my work in his class. This type of experience never leaves you. His way with words. I'm incredibly sad to hear about his passing. I am so sorry for your loss.
Kristrun Frostadottir, MA in Global Affairs '16
Professor Monteiro is one of the most kind, open, and considerate people I've ever had the privilege of learning from. As a student who often felt out of place in academic spaces, I am eternally grateful for his warmth and care. Nuno will be greatly missed — by those, like me, who only crossed his path and by those who loved him most. I hope the love shared for him here is felt, too, by his family.
Rayan Semery-Palumbo, Yale College '19
I was shocked and heartbroken to hear of Nuno's untimely death a few weeks ago. After taking his Military Power seminar, Nuno became my Political Science thesis advisor, and I also served as one of his research assistants for "Nuclear Politics." In short, he was my most important teacher and mentor at Yale by far – and the reason for my career in national security and public service today. His scholarship was always brilliant and a mile deep, and I remember how he never allowed his students to settle for the surface-level conclusion, the soundbite, or the latest trendy methodology. Most of all I remember his quiet humor and life advice (also usually delivered hilariously). As an apolitical government official, I am constantly braced by his refrain: "But that's just politics. How does it really work?"
Finally, Nuno also gave me one of my best life experiences to date – a sensational Lisbon trip itinerary (written so engagingly that I frequently revisit the email for a laugh), which I completed in the summer of 2016. He insisted we visit his favorite bar – ("Oh, and I will never speak to you again if you miss Pavilhao Chines!") – which did not disappoint. I look forward to the day that I can return there and toast him. Rest in peace Nuno, you are dearly missed.
Donna H., Yale College '13
Nuno Monteiro was the first real mentor I had at Yale. In part, I had been convinced to come to Yale when I attended Bulldog Days and listened in awe at one of Professor Monteiro's lectures on the state of nuclear powers. As a freshman, I arrived on campus idealistic, naive, and eager to learn. Within weeks, Professor Monteiro took me under his wing, hiring me as his research assistant when I knew nothing about IR or military theory. He was always patient but was clearly prepared to push me to meet his own standards of rigor, for which I am enormously grateful. I worked for him for two years and he served as my academic advisor later on as well. Professor Monteiro's devastating wit and empathy for others allowed him to touch so many students' lives, including my own. He will be sorely missed.
Milan Vivanco, Yale College, 2021
I met Nuno when we began our program at the University of Chicago and our life as aliens in the United States. I have great memories of sharing our experiences of life as an immigrant during our first years of grad school. I remember talking about opening a bank account, getting a social security number, etcetera. When he began grad school, Nuno was interested in political theory but quickly found that IR was his thing. We continue being friends. I did not keep in touch with him, but we always have a drink at APSA. He was always welcoming, smiling, and we kept that complicity and friendship of those who had known us before becoming who we are now. In his case, a "Yale Professor."
Our last interaction was at APSA. I was visibly pregnant with my first daughter, and Nuno was so thrilled. He gave me a lot of advice, without me asking –a sign that some "cultural" things stay with us after decades of living in the US.
It is a testimony of who he was that so many of us spontaneously gathered together in a Zoom talk during Mother's Day to remember him. Nuno, my friend, you were a kind, intelligent, and generous soul. You left us way too early.
Mariela Szwarcberg Daby, University of Chicago, PhD
I'm not a student at Yale, and I've known Professor Nuno for less than a year. But that doesn't change the profound impact That Professor Nuno has had on me. I met Professor Nuno in an online course last May, and although I only took a two-month course, I gained much more than just international relations knowledge. Professor Nuno has always inspired and encouraged me with his humor and patience, so that even as a beginner in the field of international relations, I still complete my course well. What's more, as a science student, I had never studied international relations before, and it was Professor Nuno who gave me the desire to continue studying international relations at university. I will always be grateful to Professor Nuno for bringing me, not only in learning, far-reaching impact.
I was deeply saddened when I learned of Professor Nuno's tragic death in May this year. I had expected many times that I can study at Yale under Professor Nuno's instructions in the future, but now there is no such opportunity. I may just be one of the many students Professor Nuno has taught, but I will still continue to study in this academic field with the spirit and knowledge he has given me. May he rest in peace.
Franklin Wang, Carnegie Mellon University
My husband and I will deeply miss our friend Nuno. We had the opportunity to share an evening with Nuno, Audrey, Sebastian, and Ava in Wooster Square last July before they left for Portugal. As always, we enjoyed the food and casual conversation with them had hoped for many more evenings like that over the years. We will miss Nuno's humor and intelligence, and also seeing the love he had for Audrey and the kids. We'll always be grateful for his friendship.
Lourdes Sabé and Elliott Horch, Department of Spanish and Portuguese
Nuno was that rare breed of professor who was both a giant in the field and truly committed to teaching and mentoring his students. He was also a scholar who understood the importance of bridging the gap between theory and policy and who made efforts through his research, teaching, and outreach to make the academic study of international relations relevant to those who practice it. I thoroughly enjoyed his class and every interaction I had with him. He had a sincere respect for every student and their intellectual development, providing candid feedback meant to help them achieve their full potential. I am eternally grateful to have benefitted from his mind, his mentorship, and his example of how to teach and pursue truth.
He was a great scholar, a dedicated teacher, and – most importantly – a good and decent man. I offer my deepest condolences to his family and hope they find some solace in knowing the enduring impact he had on so many. Well done, Nuno. Be Thou at Peace.
Nerea M. Cal MA in Global Affairs '16
I expect I'm coming to this late, but I only just heard the sad news. I had the pleasure of taking a seminar course Nuno offered in his final quarter at UChicago. The course, "The Politics of Unipolarity," grappled with the literature and evidence relevant to his thesis. It was a marvelous experience. Nuno was a great teacher and one of the best Socratic discussion leaders I've encountered. He asked probing, purposeful questions. Even then, he was a heavyweight theorist in his own right, going toe to toe with Mearsheimer (especially when he TA'd Mearsheimer's classes). Most of all, he was warm and encouraging, which meant a great deal to us undergrads. Sending my condolences and wishing the best to his family and friends.
Karl Haraldsson, UChicago, AB'11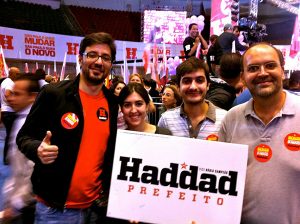 Nuno was a force of nature — brilliant scholar, amazing colleague, fierce friend, and wonderful father. I met him in 2009 when I was a Ph.D. student at Yale and he was a first-year assistant Professor. Over the years, we built a friendship based on our passion for soccer, food and travel. My wife, Jazmín, and I were extremely lucky to coincide with Nuno and his wife, Audrey, in São Paulo, Oxford and Buenos Aires. We shared great laughs and experiences and I learned a lot from him — about life, work, and about parenting. While Nuno's intellectual brilliance was apparent from his accomplishments, I experienced it first-hand as I provided some feedback on the brilliant paper Lines of Demarcation, that Nuno and Matt Kocher eventually published in Perspectives on Politics. I remember giving some harsh feedback noting the lack of dialogue with prior work on natural experiments, something far afield from Nuno. Not only did he take it like the model intellectual he was; the following day I received a new version from Matt and him. It is one of the best pieces ever written on how to marry history and causal inference.
There are no words to describe the hole left by Nuno. But he certainly left an enormous and indelible mark.
The photo was taken in 2012, during a Workers' Party event in São Paulo, with Audrey and our friend and colleague Feliciano Guimaraes.
Luis Schiumerini, Yale Ph.D. (2015)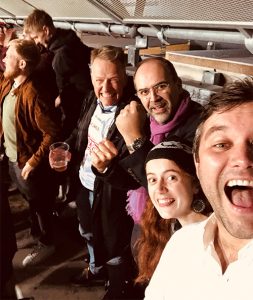 Nuno's kindness and generosity knew no bounds, while his passion for intellectual debate and discovery were truly inspiring. There are few people you can discuss sculpture and art with over a coffee, debate political violence with across a seminar room, and watch football with over a beer.
Nuno was one of those people and it was a pleasure to get to know him at Yale and host him here in Denmark. He will be dearly missed.
James Rogers, ISS Visiting Fellow 2018-19
Nuno was a great teacher and scholar, a caring mentor, a true friend and a real gentleman. He will be missed by his many students in Russia.
Azamat Kumykov, MAS '15